Details

Written by

DILG Zambales

Category: NEWS AND EVENTS
Hits: 279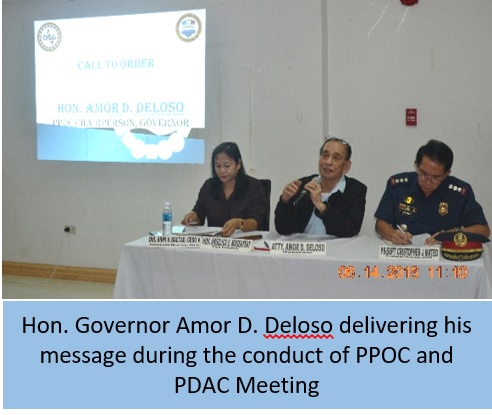 In order to maintain the social order and political stability in Zambales, Hon. Governor Amor D. Deloso led the 2nd Quarter Joint Provincial Peace and Order Council (PPOC) and Provincial Anti-Drug Abuse Council (PADAC) Meeting last June 14, 2018 held at Zambales Training and Conference Center, Iba, Zambales.
The activity was attended by the PPOC and PADAC Members, Department of Interior and Local Government (DILG) Zambales field officers and staffs, Hon. Mayor Jose Angelo M. Dominguez of Castillejos, Hon. Vice-Mayor Doris Ladines of Botolan, Chief of Police, Municipal Fire Marshalls and other local functionaries of Zambales. 
In his message, Gov. Deloso recognized the important role of PNP and DILG Zambales led by PNP Provincial Director Christopher J. Mateo and DILG Provincial Director Armi V. Bactad, CESO V, respectively in helping the LGUs in  preserving peace and order. Gov. Deloso also emphasized that with dedicated and accountable public officials, the aspirations of the Provincial Government were successfully achieved.
The collaborative effort of the different agencies in conserving peace and order through various strategies such as strict implementation of Patrol 101, Campaign Plan Double Barrel and Seven Focus Police Operations among others has resulted in a significant decrease of crime rates reported in the province. 
With this progressive result, DILG Zambales and all other stakeholders hope that the Province of Zambales will be a place cultivated with justice, fairness and equal opportunity for all. 
Details

Written by

DILG Zambales

Category: NEWS AND EVENTS
Hits: 256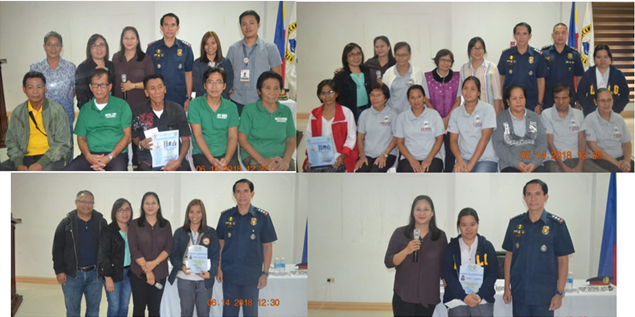 True to its commitment in incentivizing LGUs for their outstanding performance in good governance, the Department of the Interior and Local Government-Zambales together with the Provincial Government recently led the Provincial Lupong Tagapamayapa Incentives Awards on June 14, 2018 held at Zambales Training and Conference Center, Iba, Zambales.
Chosen as this year's Outstanding Lupong Tagapamayapa are Barangays San Juan of Botolan under 1st to 3rd Class Municipality Category and Camiing of Cabangan under 4th to 6th Class Municipality Category.
Each of the barangay winners received a cash award of P30,000 and a plaque.
DILG Officers Kristine Joy B. Pesimo, Jonnel B. Edillor and Cindy C. Cagalitan were also recognized and awarded with cash and plaque for their invaluable support in providing assistance and guidance to the said barangays.
The LTIA was established in 1997 as a means to institutionalize a system of granting economic benefits and other incentives to the Lupong Tagapamayapa that demonstrates exemplary performance in settling disputes at the grassroots level.
The winners were chosen based on the following criteria: efficiency in operation; effectiveness in securing the settlement of interpersonal dispute objective of the Katarungang Pambarangay; creativity and resourcefulness of the lupong tagapamayapa; area or facility for KP activities; and financial or non-financial support.
Brgy. San Juan, Botolan and Brgy. Camiing, Cabangan will be the contenders of the Province of Zambales at the regional level.
Details

Written by

DILG Zambales

Category: NEWS AND EVENTS
Hits: 370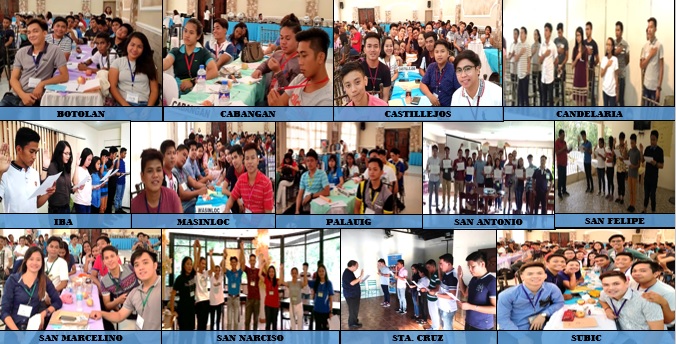 To guarantee the recognition of the roles of the youth in nation building, The Department of Interior and Local Government (DILG) Zambales spearheaded the conduct of SK Pambayan and SK Panlalawigan Pederasyon Orientation and Election last May 28-29, and June 7, 2018. The said activities were held in different venues.
The nationwide conduct of the activity is in compliance with Section 21 (b) of RA 10742, otherwise known as the "SK Reform Act of 2015" wherein the Pederasyon ng mga Sangguniang Kabataan at all levels, shall elect from among themselves subsequent to the conduct of SK Mandatory Training.
During the conduct of SK Pederasyon Orientation last May 28, 2018, the DILG Zambales lectured on the Legal Basis of the SK federation, Its Powers and Function particularly the federated Officers, the Constitution of the Election Committee and nominations of Candidates for the Officer of the Federation.
The SK Pambayan and Panlalawigan Pederasyon nomination and votation was facilitated by the Election Committee and Board of Election Supervisors (BES) and was attested by the Panel of Observers composed of representatives from the PNP, Academe and Civil Society Organizations. 
Leading the new set of SK Panlalawigan Pederasyon Officers is Ms. Keith Doble from Botolan who was elected as president.
Listed below are the SK Pambayan Pederasyon Presidents in the 13 Municipalities of Zambales:
LGU

President

NAME

BARANGAY

BOTOLAN

KEITH D. DOBLE

SAN JUAN

CABANGAN

JEROME DELA CRUZ

SAN JUAN

CANDELARIA

JOHN CYRIL R. COLLADO

POBLACION

CASTILLEJOS

ZEKIAH LEE D. TIONG

STA. MARIA

IBA

KENT HARVEY C. ANTONIO

STO. ROSARIO

MASINLOC

LEVY P. EDUVALA

TALTAL

PALAUIG

JOHN PATRICK M. ABUJEN

LIOZON

SAN ANTONIO

MERALD NIÑO A. ALBINO

BURGOS

SAN FELIPE

CLIFFORD JOHN F. GALARPE

ROSETE

SAN MARCELINO

FLORENCE P. COBARDO

LINASIN

SAN NARCISO

AILAINE A. RIMAN

LA PAZ

SANTA CRUZ

FRANCIS RAY A. MADARANG

BIAY

SUBIC

MARIA BERNZ S. BATIQUIN

ASINAN PROPER
The Oath taking of the elected SK Pambayan and Panlalawigan Pederasyon Officers immediately took place after the proclamation of the winners officiated by their respective Local Chief Executives last May 29 and June 7, 2018 respectively. All elected SK Officials will assume office at noon of June 30, 2018.