Details

Written by

DILG Zambales

Category: NEWS AND EVENTS
Hits: 64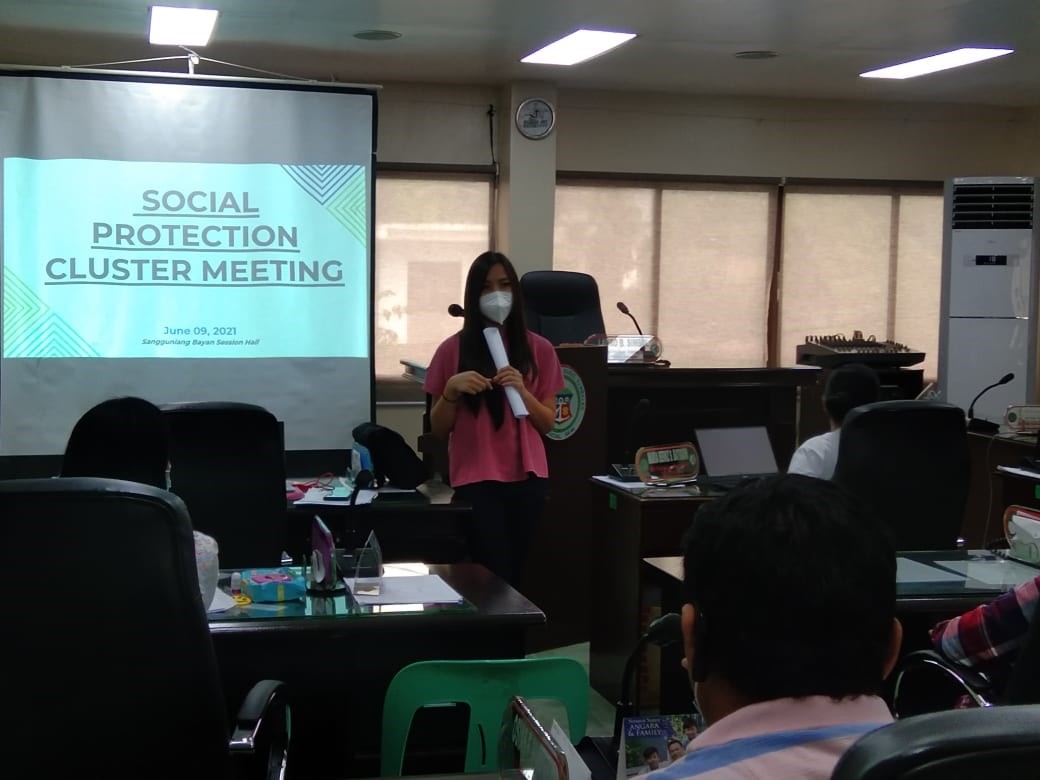 The Local Government Unit of Subic— in coordination with DILG Subic, solidified all efforts to secure children's and women's welfare in communities and enriched the sense of responsibility of all concerned local officials in carrying out their roles during the social protection cluster meeting held at the Sangguniang Bayan Session Hall on June 9, 2021.
The activity was attended by the members of the Local Council for the Protection of Children (LCPC) and Local Committee on Anti-Trafficking and Violence against Women and Children (LCAT-VAWC).
The status of women and children related violence and reported incidents to the Social Welfare and Development Office as well as the PNP Women's Desk were presented to the members along with the completed and upcoming programs and activities. Also, LGOO VI Ms. Kristine Joy Pesimo of DILG Subic, presented the assessment of the LCAT-VAWC and Child-Friendly Local Governance Audit (CFLGA) that will be conducted for this year.
LCPC is a council organized at the provincial, city, municipal and barangay levels that serves as the umbrella organization for all children's concerns and advocates for the effective and efficient implementation of child's rights programs at the local level. Meanwhile, LCAT-VAWC is established to strengthen local structures to collaboratively address the problems of trafficking and VAWC.
By: LGOO VI Kristine Joy B. Pesimo
Details

Written by

DILG Zambales

Category: NEWS AND EVENTS
Hits: 88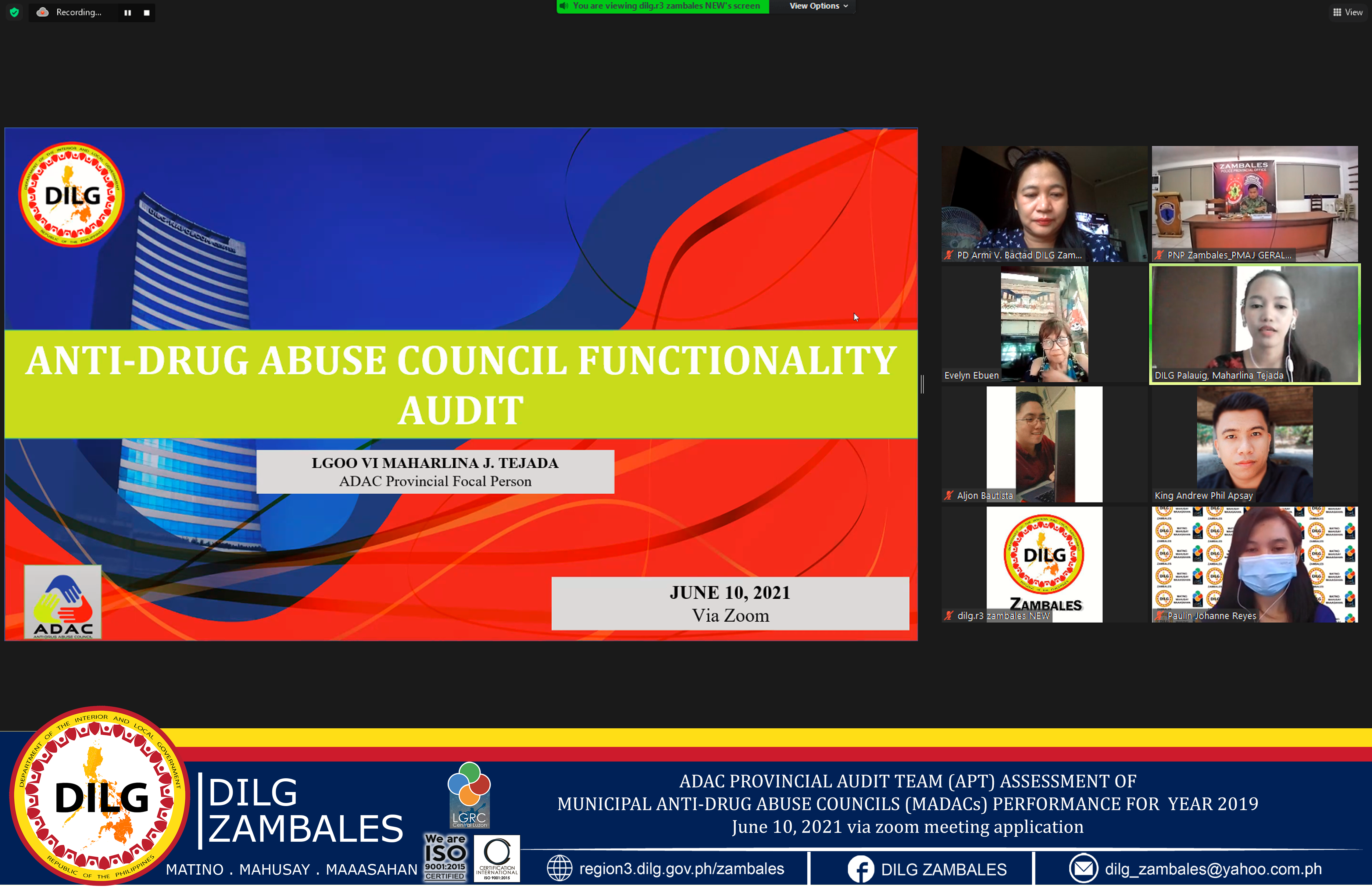 All the thirteen (13) Municipal Anti-Drug Abuse Councils (MADACs) of the Province of Zambales have intensified their anti-illegal drug clearing operations efforts in year 2019 as the councils demonstrated a 'progressive to ideal' level of functionality during the recently conducted Provincial ADAC Audit Assessment on June 10, 2021 via zoom meeting platform.
The Zambales ADAC Provincial Audit Team (APT) is chaired by DILG Provincial Director Armi V. Bactad with members from Zambales Police Provincial Office (ZPPO) represented by Acting Chief of Provincial Operations Unit PMaj Gerald F. Bendillo, CSO Representative from Mike Delta Force Intelligence and Communication Group, Ms. Evelyn Ebuen, and Empowering Leaders for Transformation, Inc., Rev. Rosalio I. Mendoza, Jr.
Read more: 13 MUNICIPAL ADACs DEMONSTRATE 'PROGRESSIVE TO IDEAL´ LEVEL OF FUNCTIONALITY
Details

Written by

DILG Zambales

Category: NEWS AND EVENTS
Hits: 90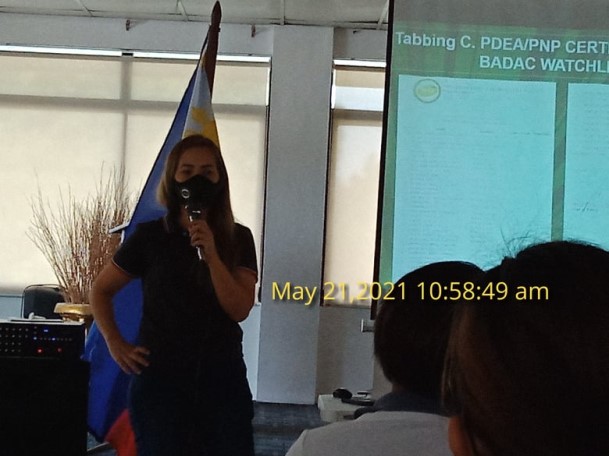 The Municipal Anti-Drug Abuse Council (MADAC) in partnership with the Liga ng mga Barangay (LnB), conducted a "Strengthening of Barangay Anti-Drug Abuse Councils (BADACs): Capacity Enhancement" Seminar on May 21, 2021 at the Rooftop, Municipal Building, Castillejos, Zambales. Attended by the eleven (11) Barangays yet to be cleared in drug clearing, the Philippine Drug Enforcement Agency (PDEA) Zambales' Agents Meryl Lyn Antonio and Provincial Drug Clearing Officer Marlou Ordoño reiterated the parameters and documentary requirements needed.

In his opening remarks, LnB President Romeo D. Calimlim II, encouraged the eleven (11) barangays to take drug clearing seriously as this will serve as their legacy to their barangay.

Also discussed during the activity are the challenges and hindrances in the preparation of the documentary requirements. PDEA, PNP and DILG representatives provided guidance on the issues and concerns presented by the barangays.

MLGOO Sheryl Ann Q. Dungca shared that it is high time to focus on the drug clearing of the eleven barangays since full support is given to them by the PNP, PDEA, DILG and the MADAC Members. She also shared that activities such as monitoring of the status of the Barangay Drug Clearing Folders will be done regularly. Series of follow-through activities are also scheduled until all barangays are cleared of illegal drugs.

Hon. Mayor Eleanor D. Dominguez expressed her support to the campaign against illegal drugs and pushed all barangay officials to double their effort in their endeavour to be a drug-free community. She also shared that by next year she will increase the allotted budget for anti-illegal drugs activities in order to fully realize their goal of having a drug-free municipality.
By: LGOO VI SHERYL ANN Q. DUNGCA