Details

Written by

Diana Jean Garcia

Category: Capability Development Program Facility
Hits: 957
Again, DILG R3 emerges as one of the best, if not the best region in the implementation of the Local Governance Management Performance System (LGPMS).  With the efforts of its fieldmen and field offices, through their Provincial/City LGPMS Focal Persons, DILG R3 has completed the on-line data entry as early as March 9, 2012, beating the Regional Office's self-imposed deadline of March 10 and the Central Office's deadline of March 23. This again has showed the unwavering dedication and workmanship of both the people in the Department and their LGUs.

DILG, as a catalyst of excellence in local governance, has set programs that would realize its vision of better governance and improved general welfare of the citizenry.  One of these programs is the LGPMS, an institutionalized mechanism to assess the actual performance of LGUs.

LGPMS, being a diagnostic tool that is used in planning, budgeting, legislation, monitoring and evaluation of performance and productivity, has proven to be effective in identifying the areas for improvement, which is necessary in addressing the gaps in the delivery of basic services to the public.
Details

Written by

John Oliver Lamparas

Category: Capability Development Program Facility
Hits: 1146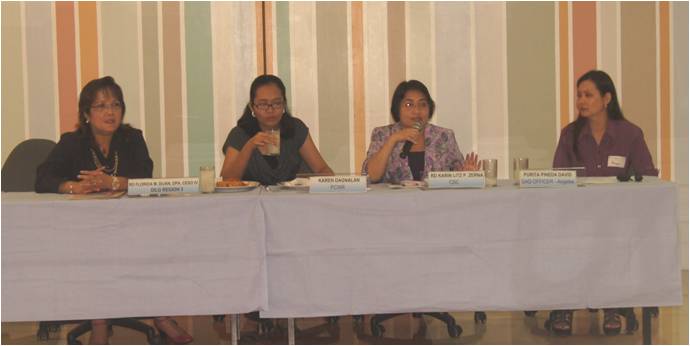 The Department of the Interior and Local Government Region III in partnership with the Civil Service Commission Region III spearheaded the conduct of the 1st Regional Convention of All LGU/NGA Focal Point Persons and other program implementers of Gender and Development (GAD) on March 28, 2012 at the Department of Health Region III Conference Room.  The said activity, with the theme "Where is GAD Now?" aims to re-examine the GAD Program through the Implementation of Republic Act 9710 or the Magna Carta of Women along with the identification of issues and concerns on gender and development in the region. 
Details

Written by

DILG Pampanga

Category: Capability Development Program Facility
Hits: 852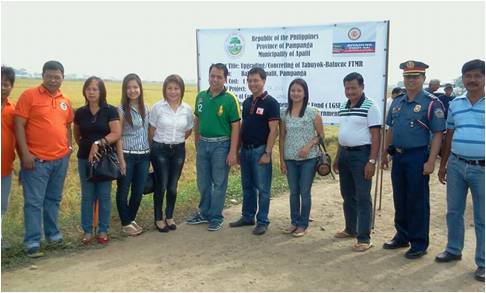 DILG Pampanga Team led by PD Angelina S. Blanco attended the groundbreaking of another Local Government Support Fund (LGSF) Project in the province of Pampanga which was held at Barangays Tabuyok and Balucuc, Apalit, Pampanga. The project is the Upgrading/ Concreting of Tabuyok- Balucuc Farm to Market Road amounting to P1,000,000.00. The said project will  formally start on March 29, 2012 and expected to be completed on April 21, 2012.

The groundbreaking was graced by the municipality's local officials headed by Mayor Oscar Tetangco, Jr. and Vice Mayor Peter Nucom along with SB Members, Department Heads and Barangay Officials.  MLGOO Edita Abalos of Apalit, LGOO VI Jose Algy B. Canlas and LGOO V Josephine Villanueva of DILG Pampanga Provincial Office were also present.

Mayor Jun Tetangco and the barangay officials of Tabuyoc and Balucuc expressed their gratitude and appreciation to the national government especially to DILG for the financial support extended as this project would ensure viability of transport of farm produce to the markets.