The Philippine Chamber of Commerce and Industry [PCCI], the biggest agrupation of business organizations in the country has named the province of Tarlac as winner in their nationwide search for the Most Business Friendly LGU [Local Government Unit].
   Credited for the province's landmark programs and projects for economic development, Tarlac bested the provinces of Cebu, Pangasinan, Ilocos Norte, South Cotabato and La Union in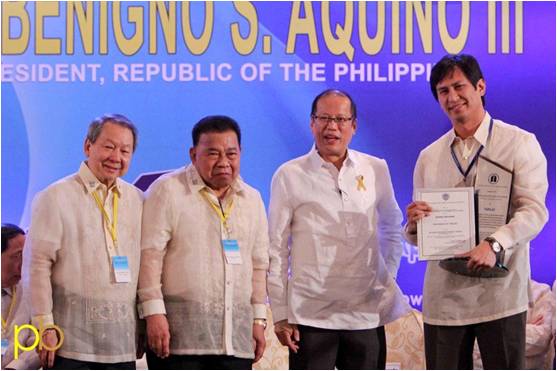 the final screening for the coveted award.

   The awarding ceremony held on October 11 at the Manila Hotel was the highlight for the 38th Philippine Business Conference-Exposition with President Benigno Aquino III leading in the conferment of the awards. Tarlac Governor Victor Yap accepted the award for the province.

   In a statement, Yap thanked the PCCI and credited the people of the province of Tarlac for the award.

   "I am overwhelmed by this award. We only achieved this because of the cooperation and dedication of all Tarlaquenos," Yap said.

   PCCI-Tarlac Chapter, under the guidance of its President Carolina Co-Uy, on the other hand, was named Most Outstanding Chamber in Central Luzon.

   The PCCI has, for the last 10 years, undergone a search to recognize cities, municipalities and provinces that established efforts for investments in their respective areas.

   PCCI based the award on five criteria which are trade, investments, and tourism promotions; public-private sector partnership; micro, small and medium enterprises [MSME] development; quality management system, innovations, and human resources development; and inter-local government relations.

   Tarlac, since Yap's assumption to in 2007, has instituted programs and projects such as the "Four First", "Natural Tarlac" and the Pagsasanay na Pangkabuhayan, to mention just a few, aimed mainly to uplift the lives of Tarlaquenos and develop the economic situation of the province.

   Just recently, Yap and the province of Tarlac were named as regional winners for the Department of the Interior and Local Government's [DILG] Pamana ng Lahi Awards.

   "The pouring of awards for the province is a testament that we all are following the president's path for righteousness…this is our way of following the daang matuwid," Yap pointed-out adding that his administration will all-the-more strive to better serve the people of Tarlac.