Barangay Carangian, Tarlac City, conducted its second semester of CY 2012 Barangay Assembly on October 14, 2012, held at Barangay Covered Court, pursuant to Presidential Proclamation No. 260 and in accordance with Section 397 of the Local Government Code of 1991 or Republic Act 7160.
   Prior to the conduct of the Assembly, preparation has been done by the Punong Barangay Antonio L. Nepomuceno ,members of the Sangguniang Barangay and the rest of the barangay officials concerned, such as: sending notification of the scheduled Barangay Assembly to all members by mobilizing their Barangay Tanods, and posting of announcements regarding on the scheduled assembly in every streets of the barangay.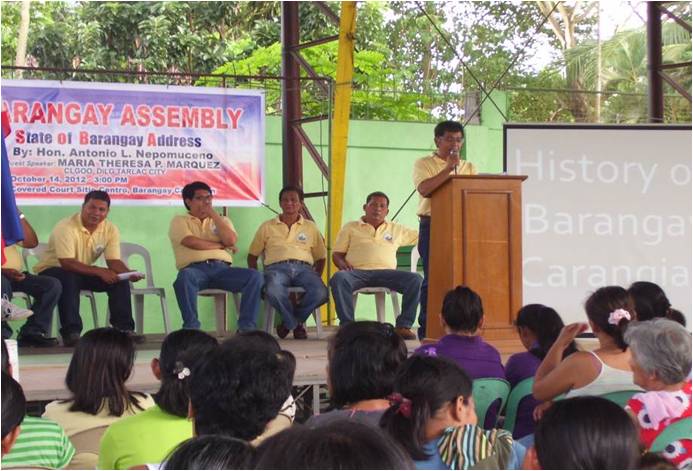 The Barangay Assembly, led by the Barangay Officials, was attended by around 150 participants to include personnel from Tarlac City Police Station and Bureau of Fire Protection and some members of different Civil Organizations composed of women and home owners' organizations in the barangay.
   Punong Barangay Antonio Nepomuceno presented the First Semester Accomplishments of CY 2012 as well as the on-going projects in the barangay.
   The Barangay Treasurer on the other hand, reported the Financial Report of the barangay from January to date of CY 2012, which includes the Annual Budget for CY 2012 and the disbursement of the 20% Development Fund among others, and the posting of such financial reports in the premises of the barangay hall in compliance with Full Disclosure Policy of the government, ensuring the residents of the barangay to have access on the reports.
   DILG Tarlac City Officer Teresa Marquez discussed on the Promotion and Sustainability of Barangay Good Governance and shared with the participants the Message of Secretary Mar Roxas.

   Peace and Order Situation for the period was reported by the representative of the City PNP personnel, PO3 Norbelita Ingaw, Police Community Relation Officer, which gave emphasis on Crime Prevention. Likewise, representative from the City Bureau of Fire Protection, FO3 Hermogenes Palomar Jr., discussed on Disaster Preparedness.
   The last part of the program was the provision of some packs of goods distributed through raffle draw.