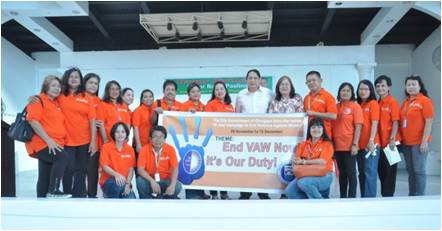 The kick-off activity of the 18-day campaign to end Violence Against Women (VAW) was held during Olongapo city's flag raising ceremony on November 25, 2013. This was spearheaded by the Women and Children Protection Council with City Councilor Elena Dabu as Chairperson of the SP Committee on Women. The City is actively joining the 18-day campaign against gender-based violence that is being observed globally from November 25 to December 12.
According to Republic Act 10398, November 25 of every year was declared as the "National Consciousness Day for the Elimination of Violence Against Women and Children". The law raises the standard by which this campaign is observed by mandating key agencies to undertake activities designed to raise public awareness on VAW.
With the theme: "End VAW Now! It's Our Duty!", the City of Olongapo will conduct series of activities such as symposium on RA 9208, 9262, 7610, livelihood training, open registration for mass wedding, on going registration for applicants for PAPSMEAR and sterilization and pre-natal seminar for pregnant women. These activities will be sponsored by City Social Welfare & Development Office, Livelihood & Cooperative Development Office, Local Civil Registry, City Population Commission and City Health Office.
Other undertakings include the use of online and social media campaign and display of streamers and posters.