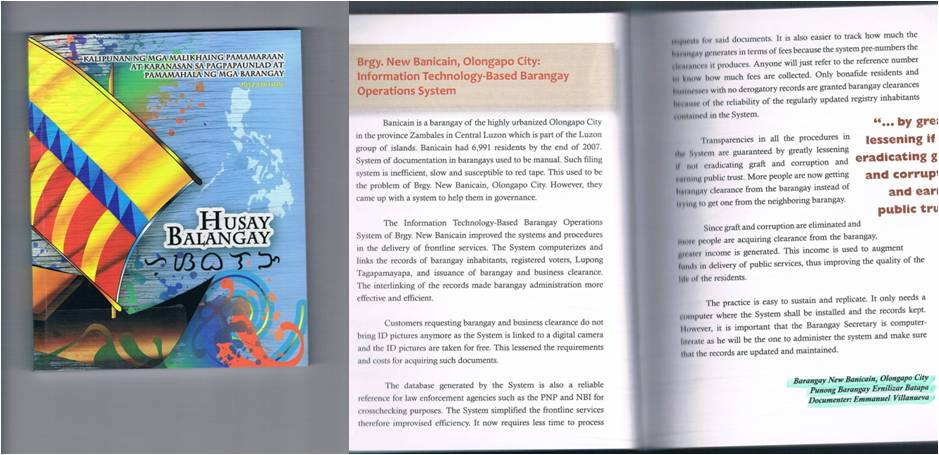 Barangay New Banicain of Olongapo City was featured in the currently released 2012 Edition of Husay Balangay, "Kalipunan ng mga Malikhaing Pamamaraan at Karanasan sa Pagpapaunlad at Pamamahala ng mga Barangay."
Husay Balangay is a publication that showcases the best practices of barangays all over the Philippines. The goal of this publication is to inspire other local governments to create, begin and innovate good practices. There are thirty two (32) projects featured in this edition.
Barangay Banicain showcased Good Governance and Anti-Corruption titled "Information Technology-Based Barangay Operations System." It aims to improve the procedures in the delivery of frontline services. The System computerizes and links the records of barangay inhabitants, registered voters, Lupong Tagapamayapa, and issuance of barangay and business clearance. The interlinking of the records made barangay administration more effective and efficient. Transparencies in all the procedures in the System are guaranteed by greatly lessening if not eradicating graft and corruption and earning public trust. Punong Barangay Ernelizar P. Batapa states that more people are now getting barangay clearance thereby increasing barangay income.
In her message, Executive Director Marivel C. Sacendoncillo mentioned that Husay Balangay as a reading supplement for barangay officials and other stakeholders of barangay governance, models of innovative practices are expected to ripple/radiate message of good governance to further improving the delivery of services in their communities. She further stated that it is always good to move ahead loaded with good ideas, and that this Husay Balangay second edition will be valuable in the day-to-day community undertakings.