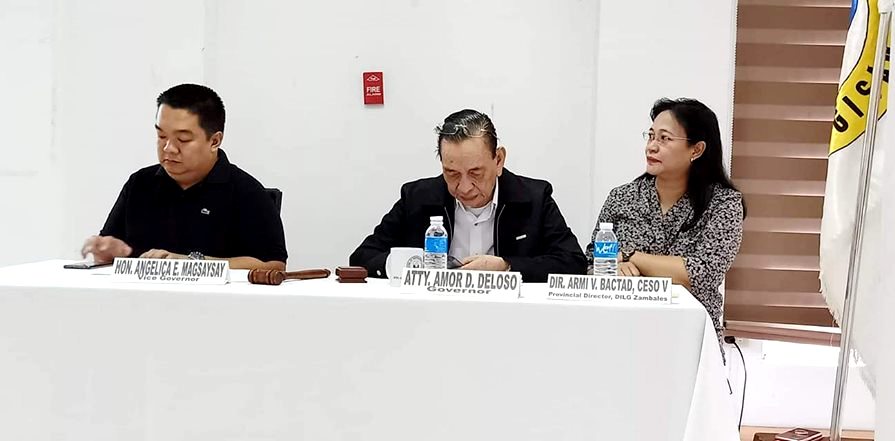 In order to shed light on concerns pertaining to criminality and public safety, the Provincial Peace and Order Council and Provincial Anti-Drug Abuse Council both chaired by Gov. Amor D. Deloso, has conducted the 2nd Quarter Meeting for the year on June 11, 2019 at the Balin Sambali, Iba Sports Complex, Iba, Zambales.
The DILG Zambales Team, Chiefs-of-Police and Fire Marshalls, were all present. Also present were the members of the PPOC and PADAC composed of Provincial Directors and representatives from PNP, AFP, DOJ, DWPH, DTI and DepEd. Local functionaries, Lupong Tagapamayapa of Barangays Camiing and San Isidro, as guests, and Municipal Mayors Jun Rundstendt Ebdane of Iba and Jun Angelo Dominguez of Castillejos, as well as Vice Mayor Doris Ladines were also in attendance.
Provincial Director Armi V. Bactad, Head Secretariat, facilitated the roll call of attendees. Key presenters from the 3rd Mechanized Batallion, Armed Forces of the Philippines, Zambales Provincial Police Office, and Philippine Drug Enforcement Agency shared their reports on the current situation in Zambales focusing on threats on Terrorism and Insurgency, Report on the Current Situation in Zambales: Criminality and Illegal Drugs and Accomplishment Report and Ways Forward on the War on Drugs in Zambales, respectively.
Another highlight of the said meeting was the awarding of plaques and certificates of recognition and commendation for the top performing Lupong Tagapamayapa and local Peace and Order Councils of the Province, based on the concluded Lupong Tagapamayapa Incentives Awards Assessment and Peace and Order Council Performance Audit under year 2018 review. Barangay Camiing of Cabangan and Barangay San Isidro of Subic outshone other 11 barangay entries and has ranked 1st for the 1st to 3rd Class Municipalities Category and 4th to 6th Class Municipalities Category, respectively. Meanwhile, in the POC Performance Audit, the municipalities of San Antonio, San Marcelino, and Botolan ranked 1st, 2nd and 3rd respectively, were awarded under the 1st to 3rd Class Municipalities Category, while Municipality of San Felipe ranked 1st under the 4th to 6th Class Municipalities Category.
In his message, Governor Deloso sought the unity among the PPOC and PADAC members to continuously sustain the generally peaceful and safe status of the province. He also conveyed gratitude to all MPOCs and barangay delegates for their efforts that greatly contribute to the current status of Zambales in peace and order.