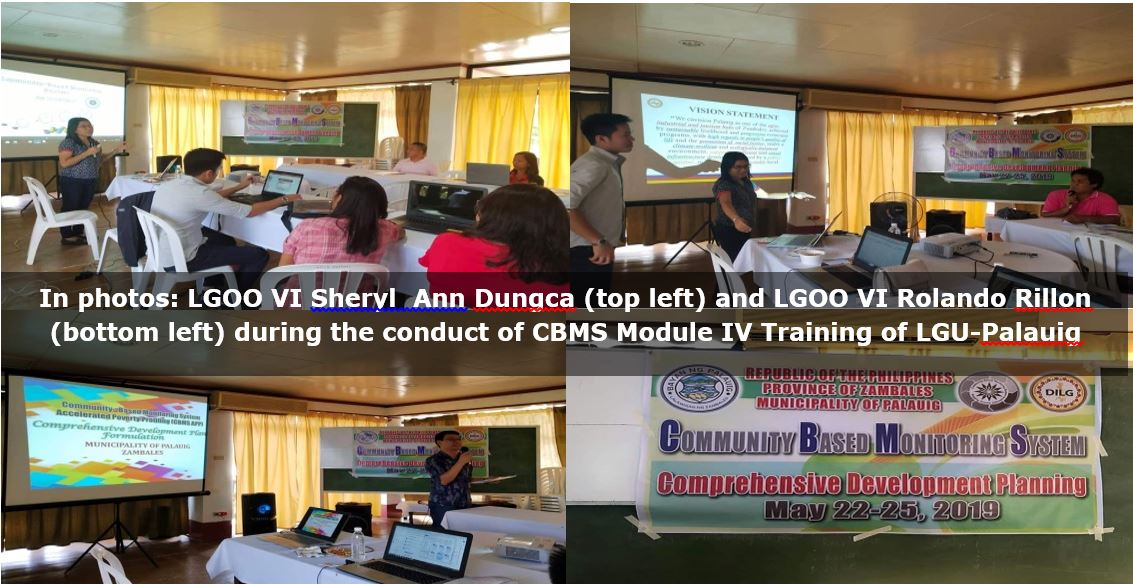 Zambales – With the role to ensure provision of technical assistance to LGUs in the preparation of local plans, the Department of the Interior and Local Government Zambales- Community Based Monitoring System (DILG-CBMS) Team has provided technical support to the municipalities of Palauig and Subic on the CBMS- Accelerated Poverty Profiling (APP) Module IV: Comprehensive Development Plan (CDP) Formulation on May 22 - 25, 2019 at Villa Raphael, San Juan, Palauig, Zambales and May 27 - 29, 2019 at the Sangguniang Bayan Session Hall, Subic, Zambales, respectively.
The activity was participated by LGU functionaries, employees and sectoral representatives from the National Government Agencies, Civil Society Organizations and private sectors. Matters regarding CBMS and its importance in Local Planning, and the guide for comprehensive development plan preparation were discussed by the CBMS team composed of LGOO VI Sheryl Ann Dungca, LGOO VI Reden Morris Vergara, LGOO V Nedricks Canlas, LGOO V Maharlina Tejada and LGOO II Fernando Erese.
The CDP is one of the plans that LGUs must formulate as mandated by the Local Government Code. It contains corresponding programs, projects and activities (PPAs) which serve as primary inputs to investment programming and subsequent budgeting and implementation of projects for the growth and development of local government territories.