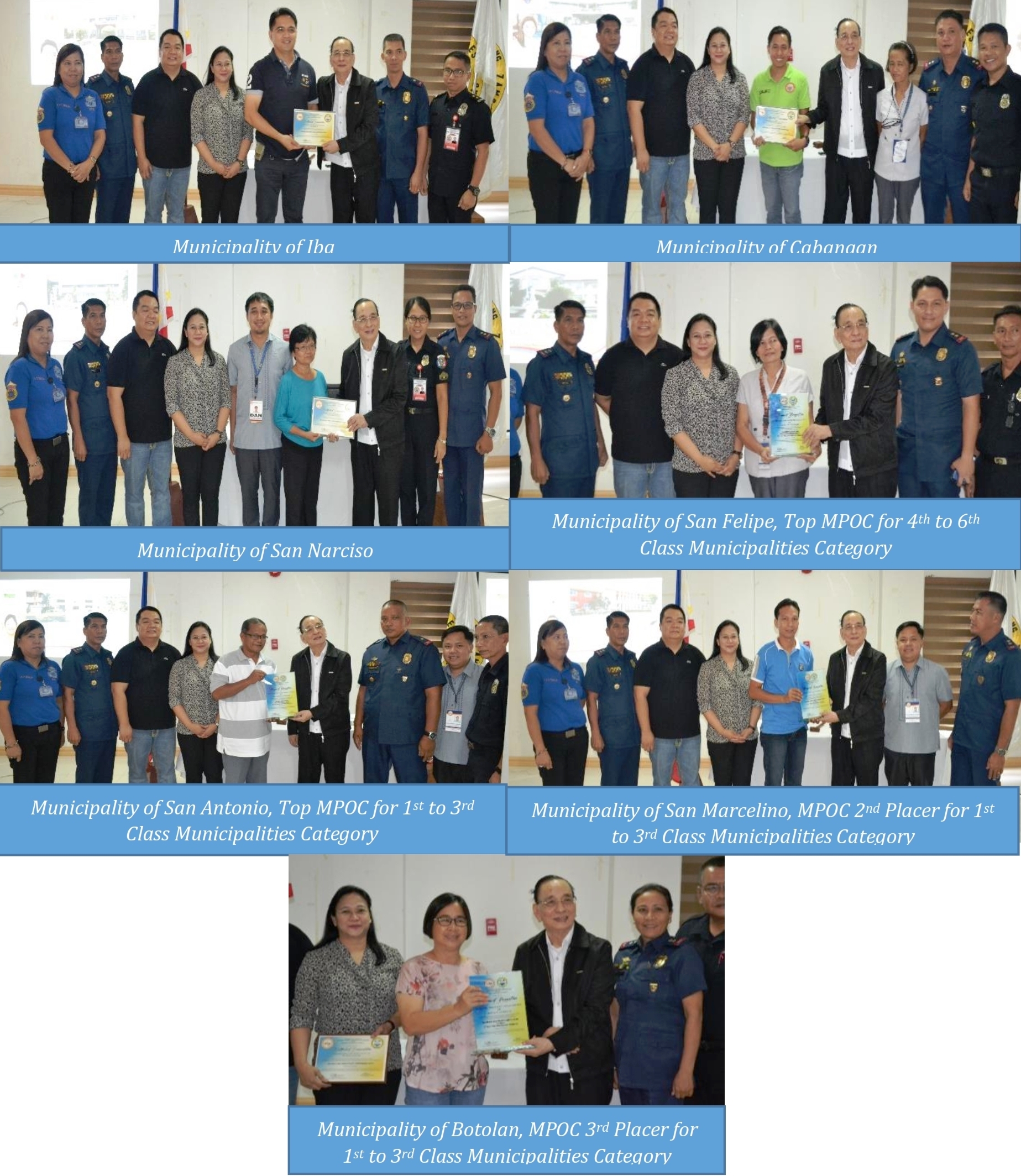 In order to sustain and recognize the continuing efforts of maintaining peace and order in Zambales, the Provincial POC Audit Team headed by Dir. Armi V. Bactad, CESO V, together with Governor Amor D. Deloso, awarded the best performing Municipal Peace and Order Councils and Lupong Tagapamayapa of Zambales, during the conduct of the 2nd Quarter Joint Provincial Peace and Order and Council and Provincial Anti-Drug Abuse Council Meeting on June 11, 2019 held at Balin Sambali, Zambales Sports Complex, Iba, Zambales.
The awarding, which has been one of the highlights of the said meeting, was participated by the PPOC and PADAC members, Department of Interior and Local Government (DILG) Zambales field officers and staff, Chiefs-of-Police, Municipal Fire Marshalls, guest Lupong Tagapamayapa of Barangays Camiing, Cabangan and San Isidro, Subic, as well as other local functionaries of Zambales.
The awards were based on the concluded Lupon Tagapamayapa Incentives Awards (LTIA) Assessment and Peace and Order Council Performance Audit under 2018 year of review. In the POC Performance Audit, the municipalities of San Antonio, San Marcelino, and Botolan ranked 1st, 2nd and 3rd respectively, were awarded under the 1st to 3rd Class Municipalities Category, while Municipality of San Felipe ranked 1st under the 4th to 6th Class Municipalities Category. For the LTIA, Barangay San Isidro from the Municipality of Subic and Barangay Camiing from the Municipality of Cabangan, both ranked as 1st for 1st to 3rd Class and 4th to 6th Class Municipalities Category, respectively.
Meanwhile, all of the Province's local Peace and Order Councils passed the POC Performance Audit, and were likewise awarded with Certificates of Commendation. Areas given commendation include: MPOCs' efforts in sustaining the functionality of the organized MPOCs, POPS Plans were crafted and implemented, POPS Accomplishments were reported on time through the POPS PCMS, MPOCs provide support to POC Secretariat and MPOCs render peace and order innovations and best practices that were well-documented. Municipality of Botolan, in addition, also received a special award for being the Most Improved MPOC.
The awarding ended with Governor Deloso's message before the LGUs to continue raising their performance and innovations in ensuring peace and order in their localities, as a peaceful and safe community is a prime concern of every local government unit.