After a thorough assessment and deliberation of all the municipal entries from the 13 local government units (LGUs)of the province, Brgy. San Juan, Botolan and Brgy. Camiing, Cabangan swiftly made it on the top as the province's representatives on the 2017 LupongTagapamayapa Incentives Awards (LTIA) for the 1st-3rdClass and 4th-6th Class Municipal Category, respectively. 
Remarkably, Brgys. San Juan and Camiing represented the province on 2016 LTIA Assessment and both have secured the 1st Place during the Regional Awarding, besting other nominees from other provinces in the Region on their respective categories.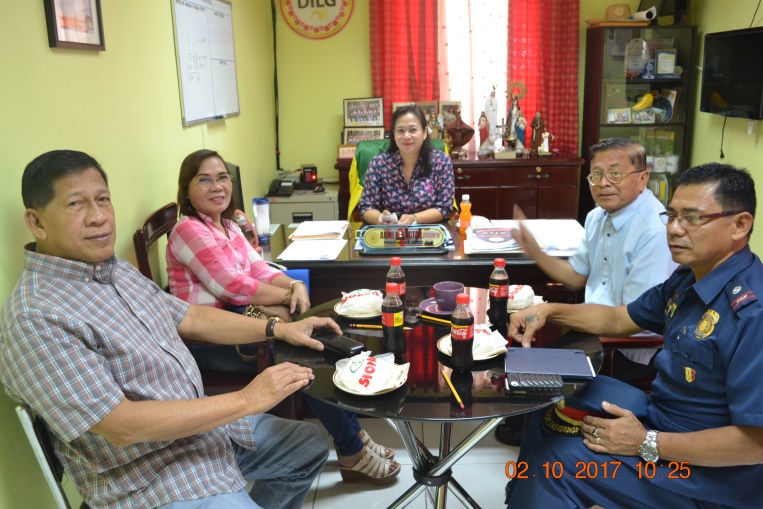 The LTIA Provincial Awards Committee (PAC), headed by Provincial Director Armi V. Bactad, CESO V of DILG as the chairperson, together with members Hon. Romelino R. Gojo, Regional President of Liga ng mga Barangay, Bishop Virginio D. Ducos, D.D. of Hiyas ng Pag-asa (NGO), Ms. Merilyn B. Dasig representative from DOJ and Police Chief Inspector Orlando C. Reyes of Zambales Police Provincial Office, convened on February 12, 2018 at the DILG Zambales Provincial Office for the deliberation of the Lupong Tagapamayapa who exhibited exemplary performance in handling and settling disputes at the barangay, validated through the documents submitted by each official municipal entry.
The entries of Botolan, Candelaria, Castillejos, Iba, Masinloc, Palauig, San Antonio, San Marcelino, Sta. Cruz and Subic competed for the 1st-3rd Class Municipal Category while Cabangan, San Felipe, and San Narciso were contenders for the 4th-6th Class Municipal Category. Each entry was evaluated based on three (3) major criteria namely, (A)Efficiency in Operations, (B) Effectiveness in Securing KP Objectives, and (B) Creativity and Resourcefulness of the Lupong Tagapamayapa.
Lupong Tagapamayapa Incentives Awards (LTIA) is an annual activity conducted by the Department of the Interior and Local Government in recognition of the Lupons who demonstrated commitment and dedication in the implementation of Katarungang Pambarangay in their locality. LTIA aims to strengthen the Katarungang Pambarangay as an indigenous conflict resolution structure at the grassroots level through grant of incentives to outstanding Lupons.