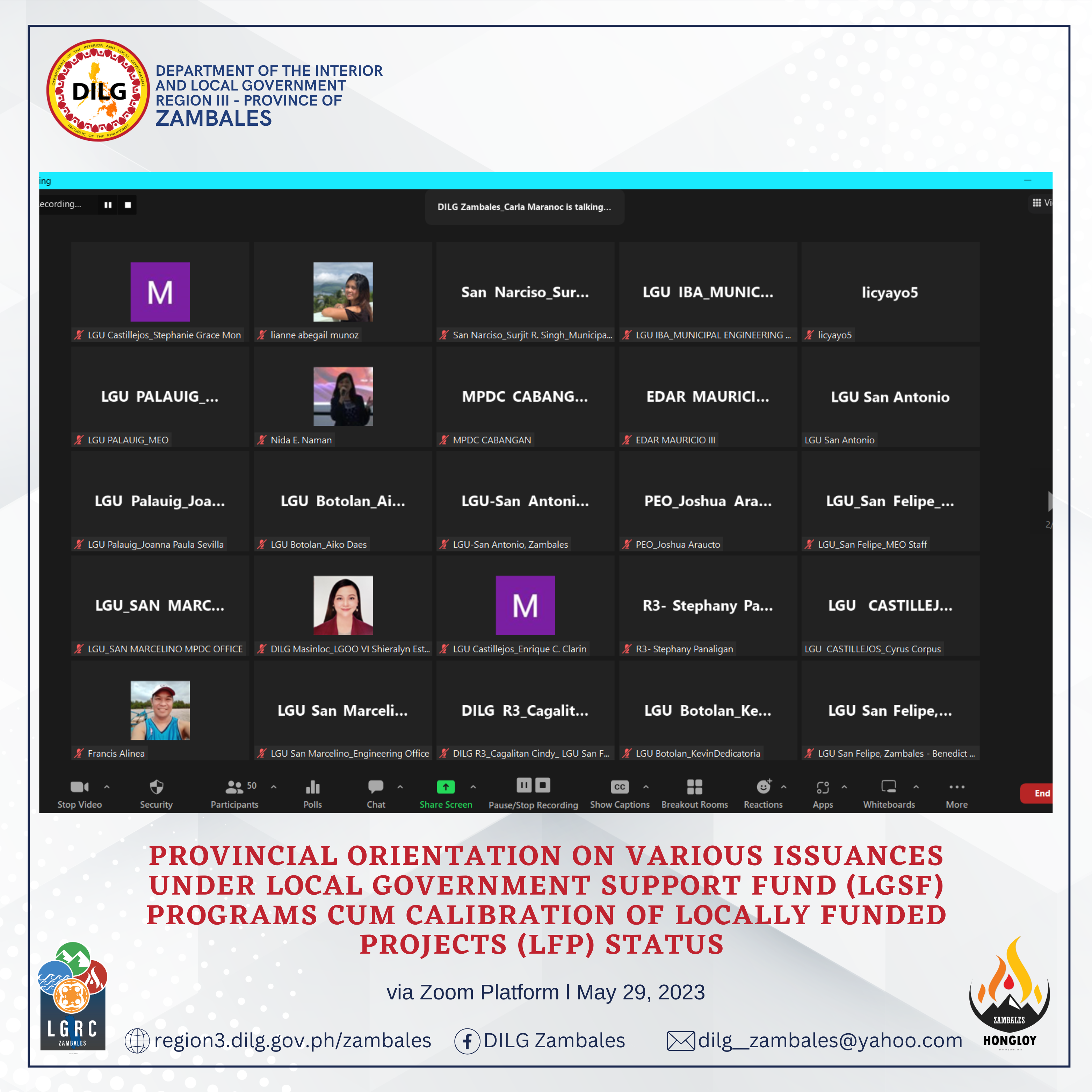 The DILG Zambales Project Monitoring Team conducted its monthly calibration on May 29, 2023 via Zoom platform. The monthly calibration tackled the following: Status of Implementation of the Local Government Support Fund (LGSF) Programs and submission of documentary requirements, Memorandum Circular No. 2023-063 dated April 18, 2023, Management Action on LGU's Non-compliance, Local Budget Circular No. 151 dated March 30, 2023, Simplifies guide on the needed documents in the SubayBAYAN Portal, Status of compliance on Rapid Subproject Sustainability Assessment (RSSA), Results-based Monitoring and Evaluation of LGU Infrastructure Project (RLIP), Local Road Management Performance Assessment Tool (LRMPAT), Annual Maintenance Work Program (AMWP), and Municipal Water Supply Sanitation and Hygiene Master Plan (MWSSMP).
In her opening remarks, Cluster Team Leader Melissa D. Nipal urged the Provincial Government, the 13 Municipalities, and the local functionaries present to transact business with authorized parties.
Presentations for the Status of Implementation of the following Local Government Support Fund (LGSF) programs FY 2021-2022, status on the submission of documentary requirements, status of MWSSMP and SubayBAYAN portal, were presented by Engr. Jelly Mae T. Ebalobo and requested for the LGUs commitment on the submission of necessary documents.
PEO II Nicole Shane L. Pampanga addressed and identified the modifications from the MC No. 2023-063 dated April 18, 2023: Revised Omnibus Guidelines in the Monitoring and Evaluation of Projects under the Assistance to Local Government Units (ALGU) - LGSF.
Engr. Princess Ivy B. Coloma presented the changes in MC No. 2023-063 which includes the Management Action on LGUs' Non-Compliance in the Implementation of FY 2021 LGSF Programs and the Risk Assessment from the Field Monitors. In addition, she explained the different factors that trigger the risk level of each project from Reminder Letters to Notices of Non-Compliance on the agreed commitment between the DILG PMT and LGUs. The risk also includes the enrollment of projects and updating the SubayBAYAN portal which shows the risk level of projects: Yellow Code for Minor Triggers, Orange Code for Major Triggers, and Red Code for Severe Risk Identified Triggers.
The activity ended with remarks from DILG Zambales Provincial Director Martin Porres B. Moral, CESO V. PD Moral expressed his gratitude to the Local Functionaries who attended the LFP's Monthly Assessment and Calibration. Along with that, he encouraged the LGUs to submit as many project ideas as necessary.
By | Engr. II Princess Ivy B. Coloma