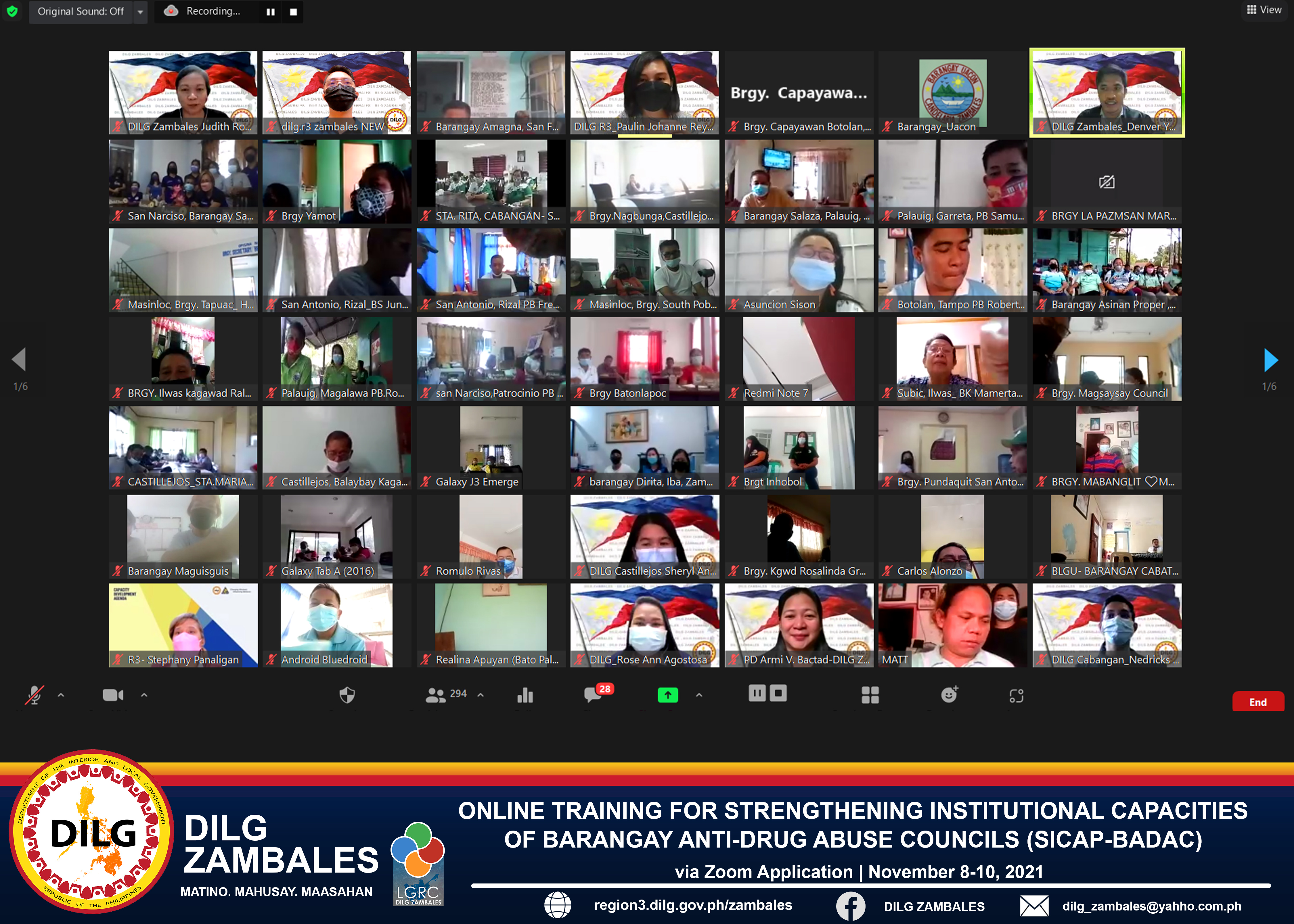 The Department of the Interior and Local Government (DILG) Zambales headed by Provincial Director Armi V. Bactad, CESO V facilitated a three (3)-day Online Training for Strengthening Institutional Capacities of Barangay Anti-Drug Abuse Councils (SICAP-BADAC) on November 8-10, 2021 via Zoom Cloud Meetings. The activity primarily aims to continually capacitate local Anti-Drug Abuse Councils (ADACs), particularly the barangays.
The activity was conducted in partnership with the Philippine Drug Enforcement Agency (PDEA), Department of Health (DOH), Department of Social Welfare and Development (DSWD), Commission on Human Rights (CHR), National Youth Commission (NYC) and Regional Juvenile Justice and Welfare Council (RJJWC).
In attendance were the key members of the Barangay Anti-Drug Abuse Councils (BADACs) composed of Punong Barangays as Chairpersons, Sangguniang Barangay Members (SBMs) on Peace and Order as Committee Chair on Operations, SBMs on women and family as Committee Chair on Advocacy and non-government organization (NGO) representatives from the 230 barangays in the province.
The said undertaking aimed to strengthen the BADACs to become well-equipped in planning and implementing drug abuse prevention programs and activities, and to refresh them with the necessary knowledge and skills to effectively perform their duties and functions.
In her message, PD Bactad stressed that it is necessary to upscale the information drive on the programs of the government to eradicate drug-related problems in the country and enhance the capacities of barangay officials in performing their crucial roles in the fight against illegal drugs at their level.
PD Bactad also expressed her heartfelt gratitude to the partner agencies for giving time for the activity for their commitment and support for the successful conduct of the activity through sharing their knowledge and expertise."Layunin po ng pinagsama-samang pagsisikap ng aming ahensiya at mga [partner agencies] po natin na mapalakas pa lalo ang ating mga organisasyon, ang kakayahan ng mga barangay officials at bawat barangay sa isang napakatagal na pong problema ng ating bansa - [drug menace]" PD Bactad said.
Cluster Team Leader/LGOO VII Judith B. Romero provided an overview on the series of topics for the 3-day activity. Likewise, LGOO VI Maharlina J. Tejada, Provincial ADAC Focal Person led the discussion on the BADAC and its mandate, emphasizing the legal bases on the creation of BADAC.
Atty. Aloi Renz P. Santos, Attorney IV of Commission on Human Rights (CHR), SWO-III/Mr. Reyman M. Bimeda of Regional Juvenile Justice and Welfare Council (RJJWC), Information Officer II/Mr. Glenn Guillermo of Philippine Drug Enforcement Agency (PDEA) Region III, Senior Health Program Officer/Ms. Agnes N. Alipio of Department of Health (DOH) Region III, PDO III and Regional Anti-Drug Abuse Alternate Focal Person/ Ms. Sherryl Balatbat Santos, RSW of the Department of Social Welfare and Development (DSWD) Region III and Cluster Head/Ms. Rose Chell Anne C. Rojas of Pampanga Area Office National Youth Commision (NYC) served as resource persons during the activity and tackled the various topics which includes a refresher Course on BADAC; Performance of BADAC Duties; Human Rights, Gender Sensitivity and Child-Friendly approach in performing BADAC duties; Youth and Drug Prevention; Community Based Drug Rehabilitation Program (CBDRP); Efforts to Sustain the Drug-Cleared Status of the Province and Strengthening BADACs on Aftercare and Reintegration Program.
Recognizing the critical roles of the BADACs in the coordination and proper monitoring of drug-related incidents in their barangays, DILG Zambales will continue its efforts to provide capacity development interventions for them to effectively perform their mandated functions and further intensify the campaign against illegal drugs at the local levels.
Prepared by: Engr. Ma. Garelyn D. Pangilinan