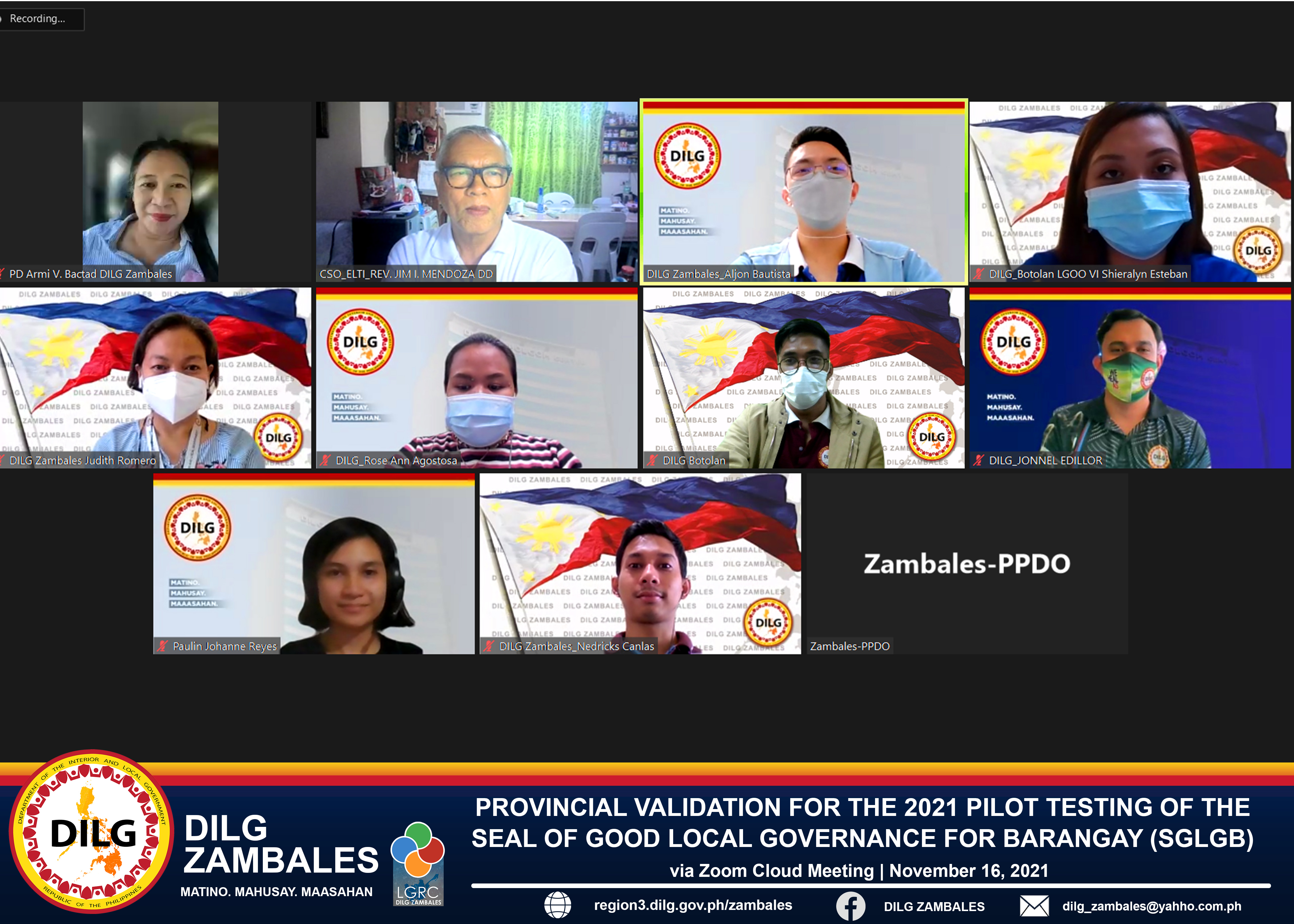 The Department of the Interior and Local Government of Zambales (DILG Zambales) headed by Dir. Armi V. Bactad, CESO V— provincial validation team chairperson, led the conduct of the Provincial Validation for the 2021 Pilot Testing of the Seal of Good Local Governance for Barangay (SGLGB) reviewing the entries of the thirteen pilot barangays from the municipalities of Zambales on November 16, 2021 via Zoom Meeting Platform. The activity aims to further assess, garner ideas and devise mechanisms in enhancing the SGLGB implementation.
PD Bactad, in her message, emphasized that the significance of the pilot testing is to provide inspiration and encouragement to all barangays. "We hope that with this pilot testing, ay mabigyan natin ng inspiration at encouragement ang ating mga barangays to exhibit their high level of performance in barangay governance. This is not a competition among the barangays, but rather a competition among themselves, para ipakita [kung] gaano kaganda ang lebel ng pag-gogobyerno, especially, mula sa ating itinuturing na first line of defense – ang mga barangays," PD Bactad said.
The provincial validation team composed of the following members assessed and evaluated the documents submitted by the 13 barangays: LnB Provincial Chapter President Hon. Raedag A. Villamin, Jr., Provincial Planning and Development Office Representative Ms. Racquel Tacdoy and Civil Society Organization (CSO) Representative Rev. Rosalio I. Mendoza, Jr. Also present to provide technical assistance were DILG Zambales personnel: Cluster Team Leader Judith B. Romero, LGOOs VI Shieralyn B. Esteban, Nedricks P. Canlas, and Jonnel B. Edillor, and LGOOs II Rose Ann D. Agostosa, Paulin Johanne L. Reyes and Aljon S. Bautista.
The "3+1" principle applies in the said assessment, wherein a barangay needs to pass ALL of the three (3) core areas of governance namely, Safety, Peace and Order; Financial Administration and Sustainability; and Disaster Preparedness; and at least one (1) of the three (3) essential areas namely: Social Protection and Sensitivity; Business-Friendliness and Competitiveness; or Environmental Management.
The data for the SGLGB pilot testing was submitted by the municipal assessment teams (MATs) through the Municipal Local Government Operations Officers (MLGOOs) via the SGLGB Information System to the provincial level for assessment. Moreover, the documents from the submitted entries endorsed by the MATs were likewise validated as to completeness, correctness and accuracy by the Provincial Validation Team (PVT) for the eventual endorsement to the Regional Validation Team (RVT).
The 2021 Pilot Testing for SGLGB aims to encourage and challenge barangays to scale up their performance and practices of good local governance that accord primacy to the principles of accountability, transparency, performance and effectiveness. Further, the pilot testing is geared towards identifying and gathering recommendations on the appropriate strategies in its national implementation.
The SGLGB, which gives distinction to barangays for their remarkable performance across governance areas, puts greater importance to integrity and good performance as pillars of meaningful local autonomy and development at the local levels, especially at the frontlines of the government — the barangays.
Prepared by: LGOOs II Paulin Johanne Reyes and Rose Ann Agostosa