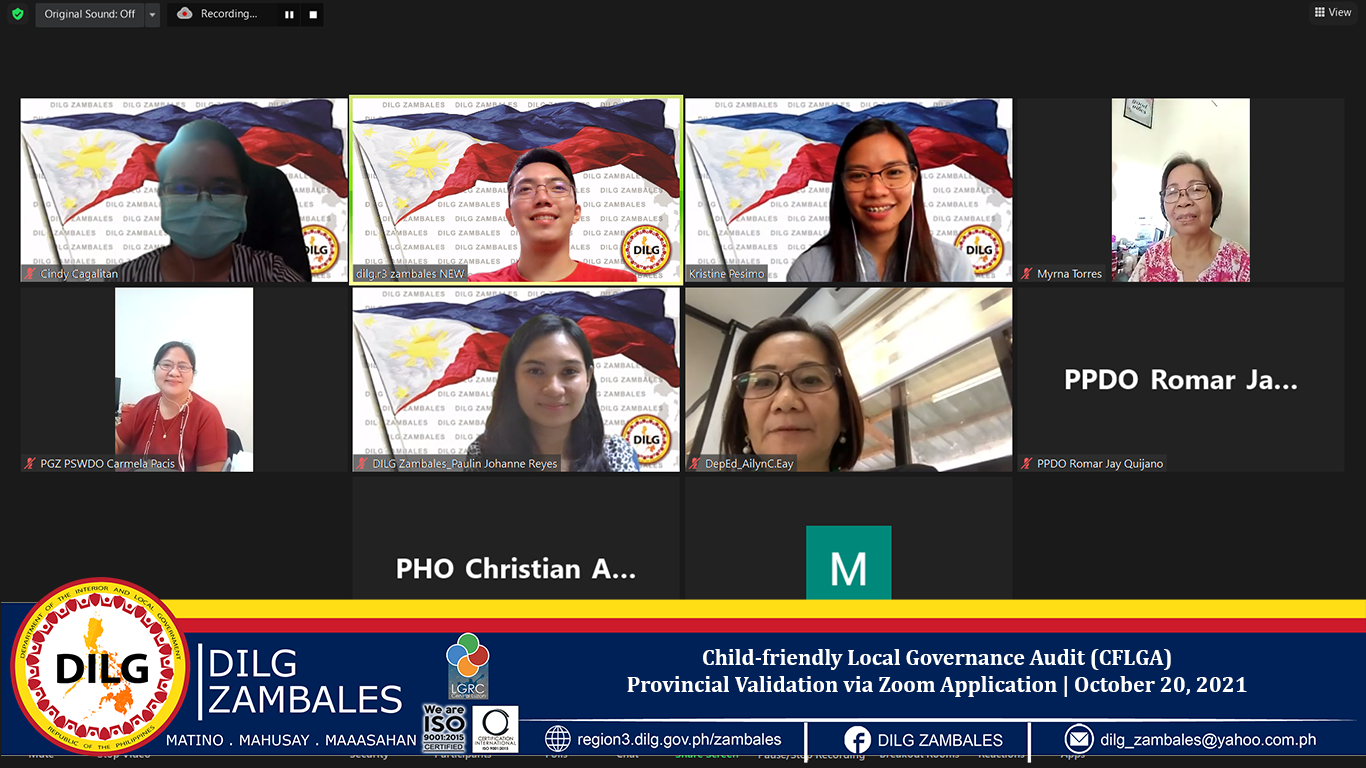 The Department of the Interior and Local Government of Zambales (DILG Zambales) headed by Dir. Armi V. Bactad, CESO V led the conduct of Child-Friendly Local Governance Audit (CFLGA) for 2019 of the municipalities of Zambales on October 20, 2021 via Zoom Meeting Platform.
The provincial audit team composed of the following members assessed and evaluated the documents submitted by the LGUs: Ms. Carmela D. Pacis of the Provincial Social Welfare and Development Office (PWSDO), Ms. Myrna Empeno and Mr. Romar Jay Quijano of the Provincial Planning and Development Office, Ms. Ailyn Eay of the Department of Education, Mr. Christian Diomino Antiquera of the Provincial Health Office, Pastor Myrna Torres of the Civil Society Organization (CSO) with the DILG Provincial Personnel: LGOO VI Cindy C. Cagalitan, LGOO VI Kristine Joy B. Pesimo, LGOO II Paulin Johanne L. Reyes and LGOO II Aljon S. Bautista.
CFLGA is a result-based assessment tool and a mandatory audit that assesses LGU performance in implementing child-friendly policies, programs, projects, and services. It focuses on the delivery of the four (4) basic rights of children, namely: survival, development, protection and participation.
Data for the CFLGA was submitted by the municipal inter-agency monitoring task force (IMTF) online through the Seal of Child-Friendly Local Governance Knowledge Management System (SCFLG KMS) to the provincial IMTF for assessment. Further validation will also be conducted at the regional and national level. CFLGA passers shall be conferred with the Seal of Child-Friendly Local Governance (SCFLG).
Prepared by: LGOOs VI Kristine Joy B. Pesimo and Cindy C. Cagalitan and LGOOs II Paulin Johanne Reyes and Aljon Bautista