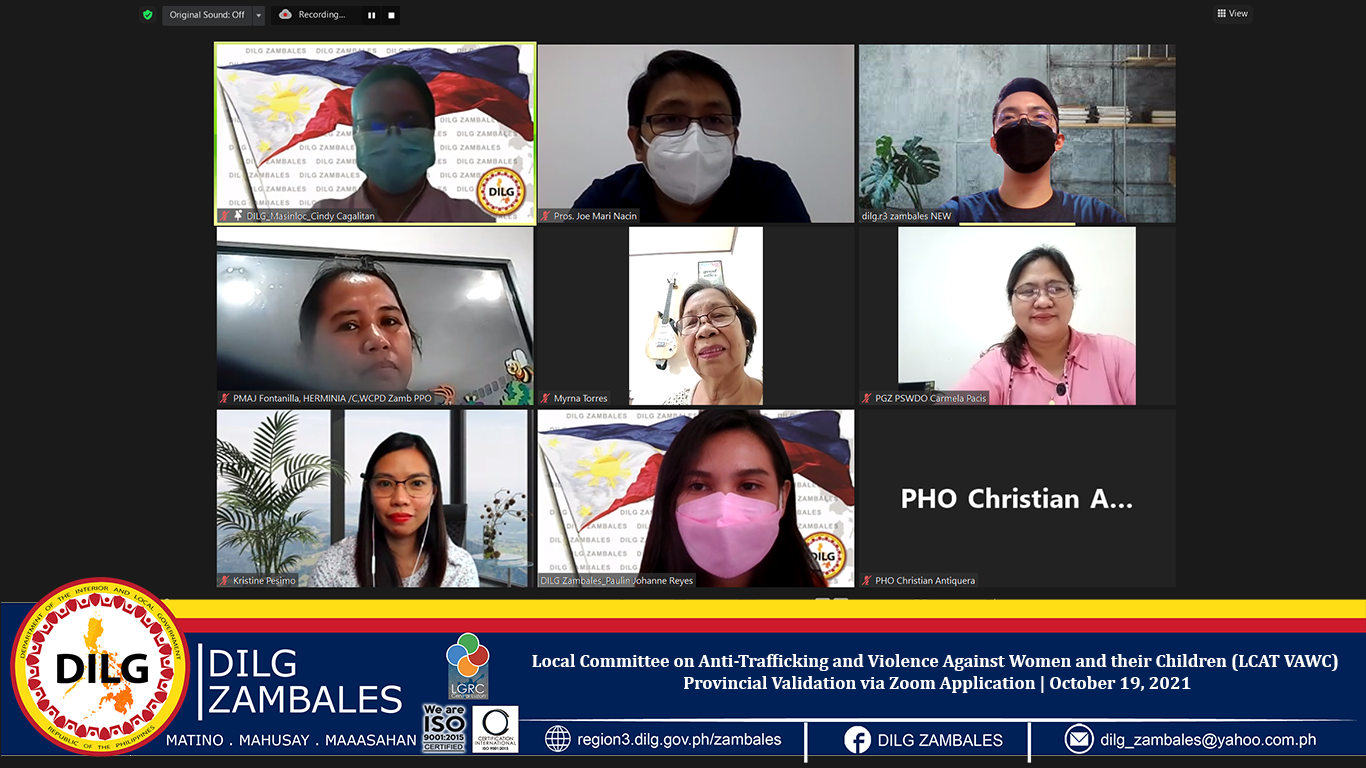 Being the Chairperson of the Provincial Inter-Agency Monitoring Task Force (PIMTF), the DILG Zambales led by Provincial Director Armi V. Bactad, spearheaded the conduct of the Provincial Validation on the Functionality of the Local Committees on Anti-Trafficking and Violence Against Women and their Children (LCAT-VAWC) last October 19, 2021 via Zoom Meeting Platform.
The activity was attended by the PIMTF members: Ms. Carmela D. Pacis of the Provincial Social Welfare and Development Office (PWSDO), Atty. Joe Mari Nacin of the Provincial Prosecutor's Office, Mr. Christian Diomino Antiquera of the Provincial Health Office, PMAJ Herminia Fontanilla of the Zambales Police Provincial Office, Pastor Myrna Torres of the Civil Society Organization (CSO) with the DILG Provincial Personnel: LGOO VI Cindy C. Cagalitan, LGOO VI Kristine Joy B. Pesimo, LGOO II Paulin Johanne L. Reyes and LGOO II Aljon S. Bautista.
LGOO VI Cindy Cagalitan discussed the guidelines of the functionality assessment and proceeded with the presentation of the result of the functionality audit. The PIMTF validated the result and agreed with the submission of the required forms.
The assessment resulted with six (6) MLGUs having Mature Functionality, four (4) Progressive and three (3) Basic Functionality for the year 2019. While for 2020, it resulted with four (4) MLGUs having Mature Functionality, six (6) Progressive and three (3) Basic Functionality.
The areas of assessment of LCAT-VAWC comprises of 10% for Organization, 10% for Meetings, 30% for Policies, Plans and Budget and 50% for Accomplishment.
The LCAT-VAWC Functionality Assessment aims to gauge the progressive governance of the LGUs in addressing the problems of trafficking and VAWC even in these trying times.
Prepared by: LGOOs VI Kristine Joy B. Pesimo and Cindy C. Cagalitan and LGOOs II Paulin Johanne Reyes and Aljon Bautista