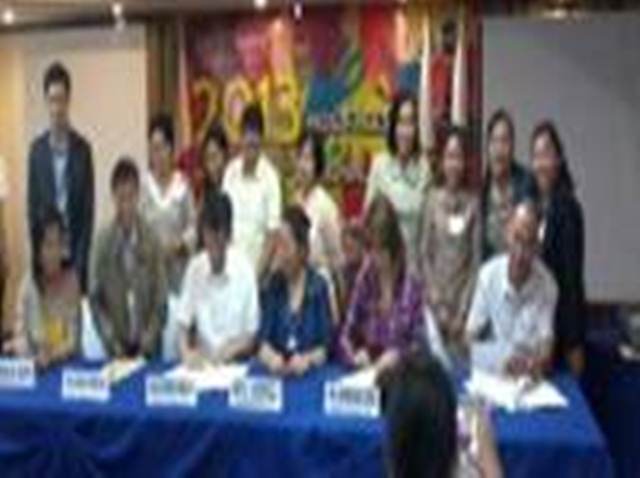 Four cities in Central Luzon namely: Angeles City, Balanga City, Bataan; San Jose City, Bulacan; and Palayan City, Nueva Ecija signed a Memorandum of Agreement with the Department of the Interior and Local Government (DILG) R-3 and Local Government Academy (LGA) to implement the Millennium Development Goals – Family-Based Action for Children and their Environs in the Slums (MDG-FACES) Project on September 12, 2013 at Bayview Park Hotel, Manila.
The primary purpose of the project is to empower the cities to be dynamic partners of the National Government in responding to the challenges of the MDGs. It focuses on the lives of 1,209 girls and 1,209 boys from 2,180 urban poor households in 53 urban slums of the 24 cities nationwide and for the women to lead the project as well as play a central role in the implementation and monitoring. The four (4) cities were selected as project partners since they met the criteria set by the Department, i.e., Seal of Good Housekeeping, readiness, willingness, chances for success, and geographic distribution.
DILG Undersecretary for Local Government Hon. Austere A. Panadero delivered the opening address to inspire the project beneficiaries in helping the Philippines achieving the 2015 MDGs.
DILG-3 Regional Director Florida Dijan, LGA Executive Director Marivel Sacendoncillo, Angeles City Mayor Hon. Edgardo D. Pamintuan, Balanga City Mayor Hon. Jose Enrique S. Garcia, III, San Jose City Mayor Hon. Reynaldo S. San Pedro and Palayan City Mayor Hon. Adrianne Mae J. Cuevas signed the MOA witnessed by the core team composed of the CLGOO, CSWDO, CPDO and SP Member from each city.