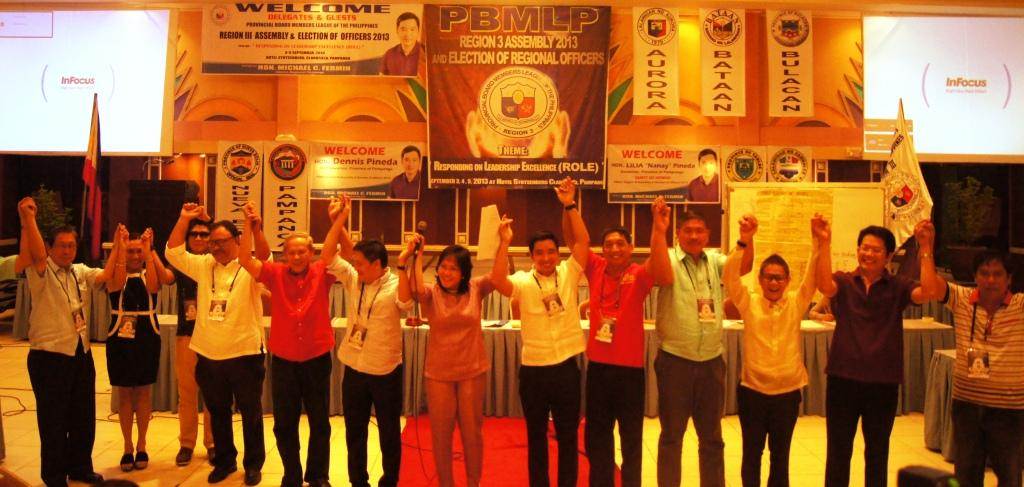 A new set of Provincial Board Members League of the Philippines (PBMLP) Region 3 Council Officers for 2013-2016 was elected and proclaimed on September 3, 2013 at Hotel Stotsenberg Clarkfield, Pampanga. BM Michael Fermin of Bulacan was proclaimed Chairman of the Regional Council. Other officials are: Vice-Chairman Ricardo C. Yabut (Pampanga), Secretary-General Harmes S. Sambrano (Tarlac), Treasurer Felix D. Ople (Bulacan), Auditor Eduardo Rey G. Joson (Nueva Ecija), PRO Dexter B. Dominguez (Bataan) and Directors Maria Cristina C. Angeles (Tarlac), Ramon R. Posadas (Bulacan), Oscar W. Padua (Aurora), Aristotle J. Gaza (Bataan) and Rosve V. Henson (Pampanga).
The PBMLP Regional Election Committee chaired by DILG Region 3 Director Florida M. Dijan with members PBMLP Vice-President for Luzon BM Joseph Ortiz and PBMLP National Secretary General Armando Villamayor facilitated and supervised the election process and made sure that the election guidelines are strictly followed.
The PBMLP aims to unite into one cohesive group and to have a strong voice in the formulation of national policies affecting local governments, particularly and especially where it concerns the Provincial Boards and local governments.