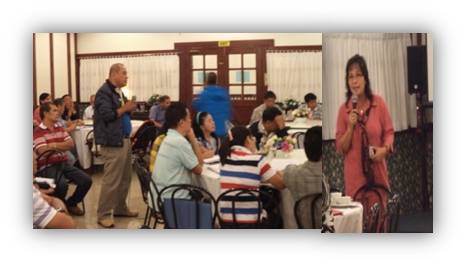 The Department of the Interior and Local Government Reg 3 initiated a consultation meeting on Special Local Roads Fund (SLRF) on August 6, 2013 at Red Rickshaw Restaurant, Sindalan, City of San Fernando, Pampanga.
The half-day meeting aimed to communicate the CY 2013 SLRF Allocation approved by the Road Board last April 2013 to all SLRF Focal Persons of all concerned LGUs – seven (7) Provinces and fourteen (14) Cities of this Region. It likewise aimed to review the status of all pending and current SLRF projects. Central Luzon 2013 received a total of Php 126,064,292.00 SLRF Fund Allocation that is 9.69% of the total 2013 National allocations.
Further, with the presence of all concerned National Government Agencies, the meeting served as venue to provide assistance on the issues commonly encountered by LGUs in the SLRF processing and to reiterate their respective systems and procedures with regard to the SLRF implementation.
OIC-Capability Development Division Chief Martin Porres B. Moral discussed the objectives of the consultation meeting and gave an overview of the entire activity. While OIC-ARD Abraham A. Pascua welcomed all guests and participants and expressed his insights after all the discussion and the presentation of issues.
Assistant Project Manager Ruby Socorro Romero from DILG OPDS presented the CY 2013 SLRF Allocation of all provinces and cities of Central Luzon as approved by the Road Board last April 2013. She gave a brief background of the SLRF under the Motor Vehicle User's Charge Law and the salient provisions of the law pertaining to SLRF.
In her closing message, RD Dijan thanked and requested the continued support and cooperation of all concerned NGAs and LGUs to ensure that Central Luzon allocations on SLRF will be accessed and utilized by LGUs in their respective Road Maintenance programs. Further, RD Dijan noted that performance is being factored-in the SLRF allocation process aside from vehicle population and local roads inventory. Performance is synonymous to accountability, where accountability is measured on how LGUs performed in relation to DILG program outcome on Accountable, Transparent, Participative and Effective Local Governance.