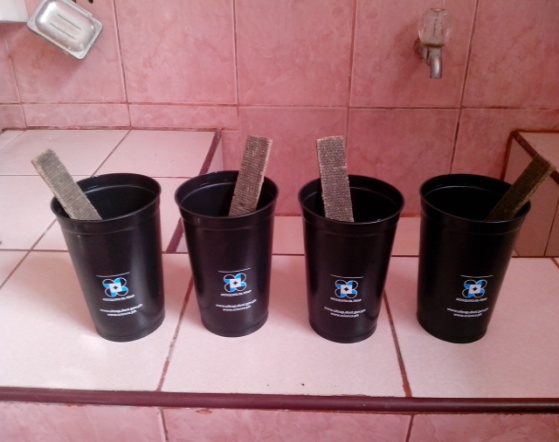 The Department of the Interior & Local Government Regional Office III, in its effort to lessen the rampant population of dengue carrying Aedes mosquitoes, has initiated the setting up of the Ovicidal-Larvicidal Trap or OL Trap within its premises. The OL Trap is a project of the DOST in partnership with DepEd, DOH and DILG which is aimed in minimizing the numbers of dengue cases by eliminating dengue carrying mosquitoes at its incubation stage (larva stage) . It is to be utilized in all public elementary and high schools all over Region 3 protect students from any possible dengue outbreak.
The OL Trap kit has three important parts; a black container with 250ml of water, a pack of OL pellets and a small strip of lawanit measuring 1" x 6.5" (like an ice drop stick) which serves as a stirrer to the solution and the main trap wherein mosquitoes are expected to lay their eggs on and a larvicide solution to kill the mosquito larvae that will hatch in the strip of wood and in the solution. Exposure of the hatched larvae to the mixture will instantly kill it. The OL Trap does not kill adult mosquitoes but prevents the next generation of mosquitoes from reaching adulthood.
With the help of ARD Belen Q. Garcia of DOST Region 3, DILG Regional Office was given samples to be used in various places all over the office grounds. The traps were monitored for a period of 6 days and the larvae were cleansed using boiling water. As a new innovation, the OL TRAP serves as one of the effective ways to eliminate the emergence of the dengue carrying Aedes mosquitoes but the best way is still to keep our surroundings clean.