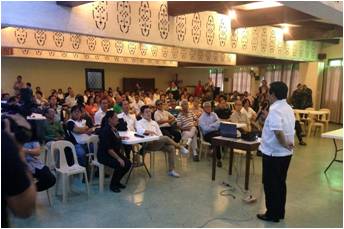 Angeles City held its Local Governance Performance Management System Utilization Conference on e-SLGR (State of Local Governance Performance Electronic Report) on July 4, 2013 at Shanghai Palace Restaurant, Angeles City. This was in compliance to DILG Memorandum Circular 2007-24 mandating the submission of SLGR as the Annual Report of LGUs and Regional Memorandum Circular No. 2013-10 dated May 15, 2013 signed by DILG Regional Director Florida M. Dijan, mandating LGUs to conduct Utilization Conference.
City Mayor Edgardo D. Pamintuan and Vice Mayor Vicky Vega Cabigting together with members of the Sangguniang Panlungsod, Punong Barangays, Barangay Kagawads, Department Heads, LGPMS Team, non-government organizations, media and DILG representatives who all aim to improve local government's performance, participated in the said conference.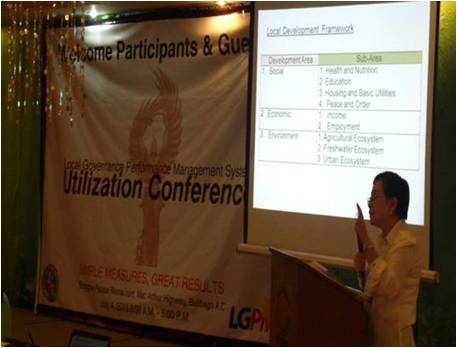 DILG City Director Remedios Rodriguez discussed the overview of LGPMS - its framework, purpose and procedure. It was followed by the State of Local Governance Report for CY 2012 and the State of Development in the past three years presented by City Planning and Development Officer Engr. David David who highlighted the LGU's strengths, weaknesses and priority areas for attention. Mayor Pamintuan pledged his commitment to address the performance gaps and measures to be undertaken. He also discussed his Contract with the Angeleños.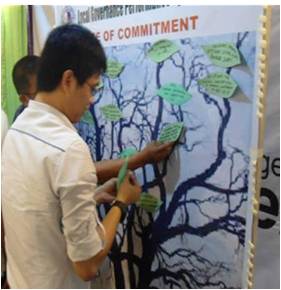 Other personalities who committed support were LnB President Joseph Dimapilis, City Councilor Jericho Aguas and CSO representatives. Before the end of the activity the participants posted their leaf signature at the Tree Commitment Wall as an assurance of the LGU's commitment to address the gaps in soonest possible time.