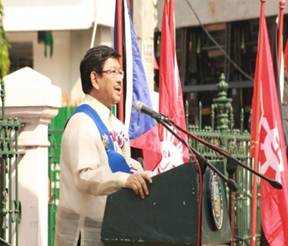 This city joined in the celebration of the 115thProclamation of Philippine Independence in a ceremonial flag raising rite held at the Pamintuan Mansion last June 12, 2013.

Mayor Edgardo Pamintuan, led the said ceremony along with other city government officials including DILG City Director Remedios M. Rodriguez and National Historical Commission of the Philippines Commissioner Dr. Ferdinand C. Llanes.
"Once again we are brought together as Filipinos in this annual celebration, and this is indeed an indication of our respect to tradition and the history of our beloved nation", said Pamintuan who added that the celebration will be a significant and meaningful ceremony that would highlight the Filipino's appreciation of its nation's freedom.

The program started at 7:00 am with a short parade from the Museo ning Angeles to the Pamintuan House, followed by the flag raising rites and the symbolic offering of flowers to the said heritage site's marker.

The Philippine National Police carried out a 21-gun salute, followed by a dance performance from the Sinukwan Performing Arts and messages from the guests and dignitaries.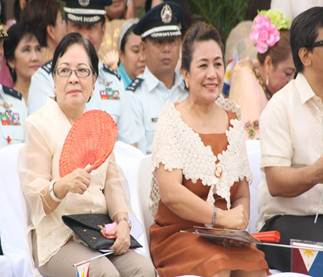 Another highlight of the celebration was the theatrical performance of the Uyat Artista group with their reenactment of the first anniversary of the nation's celebration of Independence Day.

The celebration ended with the Angeles City Choir and the City College of Angeles Choral with their rendition of "Pilipinas Kong Mahal".

The Pamintuan Mansion here in Angeles City is one of the seven official and permanent sites for the simultaneous flag raising rites conducted in the morning of Independence Day.

Other sites include Barasoain Church, Rizal National Monument (Rizal Park), Aguinaldo Shrine, Pinaglabanan Memorial Shrine, Mausoleo De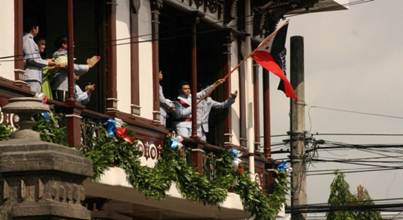 Los Veteranos de la Revolucion (Manila North Cemetery) and Bonifacio National Monument (Caloocan City).