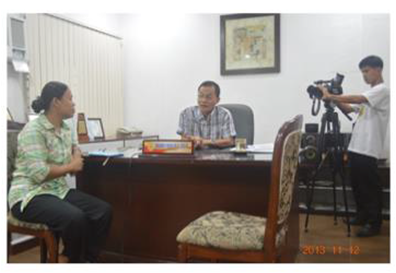 DILG Nueva Ecija Provincial Director and concurrent Assistant Regional Director Abraham A. Pascua, Ph.D., CESO III, shared updates on Grassroots Budgeting(GB) for 2015 in an interview with UNTV Channel 37 hosted by Grace Doctolero, on November 12, 2013, 2:00 PM, at the DILG NE Provincial Office.

When asked about the importance of grassroots budgeting, ARD Pascua stated, "People in the grassroots level know their situation and needs better, so if planning will start at their level, we can ensure that the programs that will be implemented by the local government units will address their needs and alleviate their poverty situation."

Director Pascua further stated that for 2015, all 32 LGUs in Nueva Ecija are included in this program. As of this time, the 5 cities and 27 municipalities of the province have already conducted series of CSO Assemblies to ensure strong CSO participation in the whole process of grassroots budgeting.

The interview continued during the conduct of meeting with the national agencies relative to GB. DILG NE initiated the said meeting to strengthen the partnership between DILG and NGAs in providing synchronized and consolidated efforts/technical assistance to the beneficiaries with regard to the successful implementation of GB for 2015. The said meeting was attended by heads and representatives from DOH, DTI, DAR, DOLE and DENR.