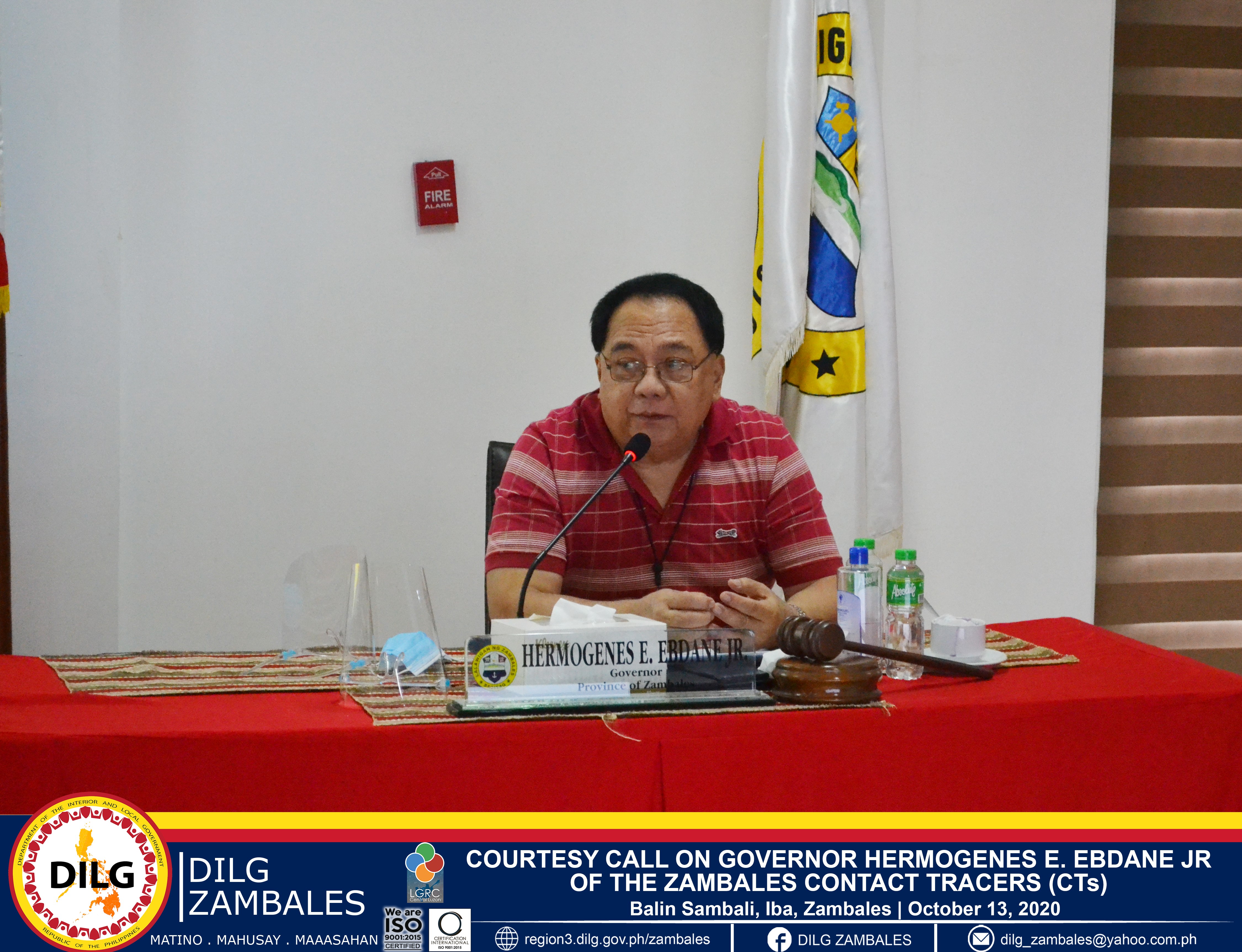 The Department of the Interior and Local Government (DILG) Zambales­—under the leadership of Provincial Director Armi V. Bactad—initiated the conduct of courtesy call of the first batch of DILG-hired and trained contact tracers (CTs) on Governor Hermogenes E. Ebdane, Jr. on October 13, 2020 held at Balin Sambali, Iba, Zambales.
Governor Ebdane expressed his support to the CTs by assuring them that they will be provided with personnel protective equipment (PPEs). He also assured them that in the event that they (CTs) contracted the virus, the Provincial Government will provide them and their families support and needs.
"Maybe, what we can tell you is that since you are volunteers and you are doing good for the community, ang sabi ko sa kanila (referring to his staff), if there will be employments later on, you will be prioritized", Governor Ebdane pledged to the contact tracers.
"Ako ay natutuwa dahil andyan kayo [bilang mga volunteers], mga bata pa. I just hope that your attitude will spread farther and be contagious enough to affect people in your community. Salamat sa inyo and I hope na di kayo mawalan ng enthusiasm", Governor Ebdane commended the contact tracers for their bravery and patriotism.
Issuances related to the hiring and selection and specific functions and duties of the CTs were discussed by ADA IV Denver S. Yumul. Meanwhile, LGOO II Paulin Johanne L. Reyes discussed some of the provisions of the Guidelines on the Management and Deployment of DILG-Hired Contact Tracers. She also provided an update on the active COVID-19 cases in 13 municipalities and presented the list of online orientations and trainings attended by the CTs.
PD Bactad and Cluster Team Leader/LGOO VII Judith B. Romero introduced the first batch of CTs to Governor Ebdane, the highlight of the activity.