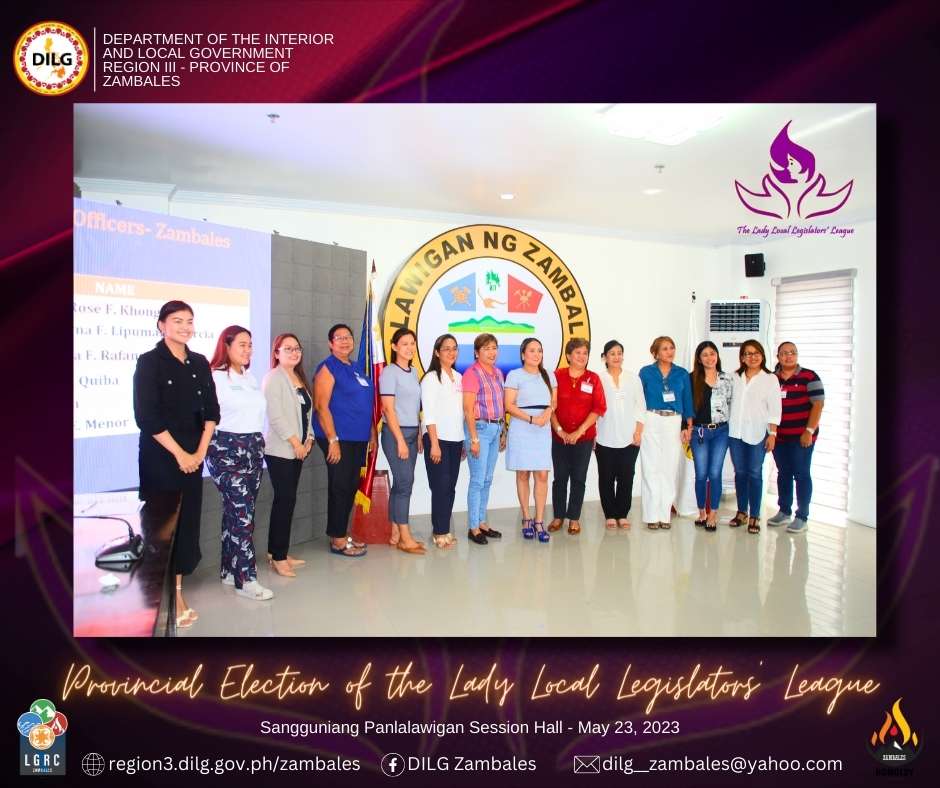 The Local Lady Legislators League (Four-L), Zambales Chapter convened for the conduct of the Provincial Elections on May 23, 2023 at Sangguniang Panlalawigan Session Hall, Iba, Zambales. The Four-L aims to empower the Filipino people, more particularly the women and children in a climate of equality, through effective and responsive local legislation, programs, and activities.
Vice Governor Jacqueline Rose F. Khonghun, the Provincial Convenor, extended her gratitude to the participants for their attendance and support to the league. She also mentioned that their goal is to plan projects and programs that are beneficial for the community especially to women and also to sustain Four-L.
The participants were acquainted with the Four-L Constitution and By-Laws and Presentation of Election Guidelines as discussed by LGOO VI Threeks F. Fontamillas of the DILG Zambales. The electoral process was facilitated and supervised by the Four-L Zambales Committee on Elections (COMELEC) chaired by Hon. Joan Ballesteros, Vice Mayor of the Municipality of Iba. Hon. Ballesteros together with the COMELEC members led by DILG Provincial Director Martin Porres B. Moral, Botolan Vice Mayor Doris Ladines, and Sangguniang Bayan Members of Cabangan, Hon. Mira De Guzman and Hon. Jecyl B. Mendigorin.
Present during the election were the Lady Legislators in the province and in the City of Olongapo. The activity was also graced by Bataan Vice Governor Ma. Cristina M. Garcia, Regional Convenor and Sangguniang Panlalawigan Member of the Province of Cagayan Hon. Mila A. Catabay-Lauigan, Region II Convener via Zoom platform.
Congratulations to the Newly-Elected Four-L Officials in Zambales!
President: HON. JACQUELINE ROSE F. KHONGHUN (Vice-Governor of Zambales)
Vice President: HON. SARAH LUGERNA F. LIPUMANO-GARCIA (Sangguniang Panlungsod Member, Olongapo City)
Secretary: HON. MA. CECILIA F. RAFANAN (SB Member, Castillejos)
Treasurer: HON. MARY ANN R. QUIBA (Vice Mayor, San Felipe)
Auditor: HON. JECYL M. FRAN (SB Member, San Narciso)
P.R.O.: HON. SARAH JANE E. MENOR (SB Member, Sta Cruz)
Board of Directors
First District:
-HON. KAY ANN S. LEGASPI (SP Member, Olongapo City)
- HON. RHODORA R. GUEVARRA (SB Member, Castillejos)
- HON. CRISTABELLE MARIE C. PAULINO (SP Member, Olongapo City)
- HON. EMMA A. QUINTOS (SB Member, Subic)
Second District:
- HON. MARIA VERONICA G. MATIBAG (SB Member, Sta Cruz)
- HON. MARGIE M. NOVENO (SB Member, Iba)
- HON. ELIZABETH F. ABLOG (SB Member, San Antonio)
- HON. DIANARISH C. ERCIA (SB Member, Palauig)
By: PEO I Carla G. Maranoc