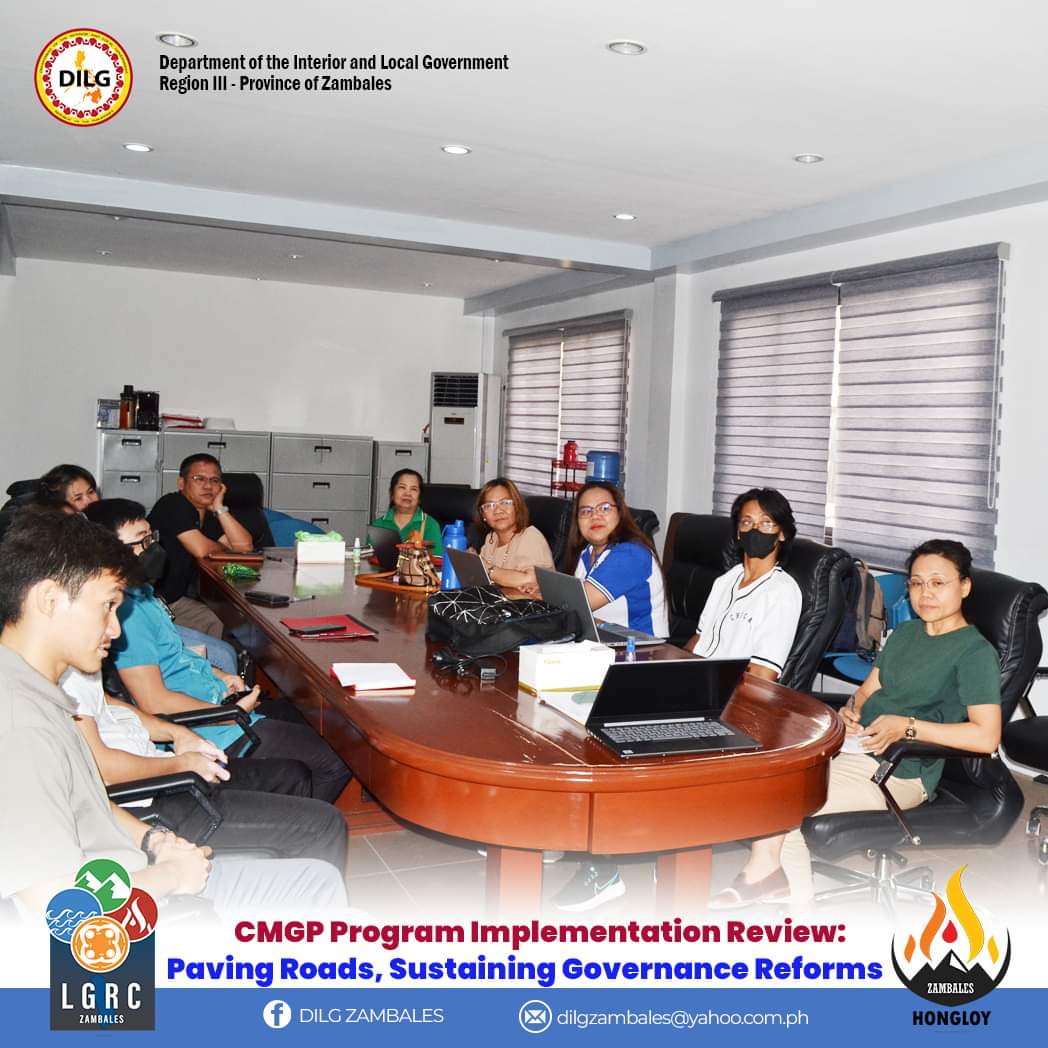 DILG Zambales conducted a coordination meeting with the Local Road Management Team (LRMT) on December 07, 2022 at the Provincial Engineering Office, Iba, Zambales to determine the level of accomplishment on road governance and how the Provincial Governance Reform Roadmap (PGRR) 2019-2022 was put into practice through efficient and effective planning, implementation and maintenance of the road network.
Engr. Joshua R. Araucto, CMGP Focal Person presented the initial Program Implementation Review (PIR) of the four (4)-year governance reform directions in the seven (7) Key Reform Areas (KRAs) of Local Road Management (LRM) and Public Financial Management (PFM) where the participants thoroughly assessed their respective achievements, gave additional inputs and shared their ideas to accomplish the PIR.
Through the PIR, the LRMT was able to evaluate whether the project implementation objectives were met, determined how effectively these were achieved, discussed the lessons learned and strategized on how to sustain their efforts and aim for significant improvements in the management of local roads for the coming years.
For the past six (6) years, 23 road projects have been funded under CMGP with a total budget allocation of Php 447,760,473.00. Twenty-two (22) of these were already completed, while one (1) project is still ongoing at 50.28% implementation. The CMGP Program, aside from providing support fund for the rehabilitation of provincial roads, is a governance and institutional program of the National Government on LRM and PFM. Through the CMGP Program, capacity development activities and trainings for the LRMT and other LGU Functionaries were provided to aid in the achievement of their identified target situations in the 7 KRAs, quality assurance of road projects and overall program management and monitoring.
Cluster Team Leader Melissa D. Nipal, commended the active participation of the LRMT and their efforts in achieving a sustainable development of road networks.