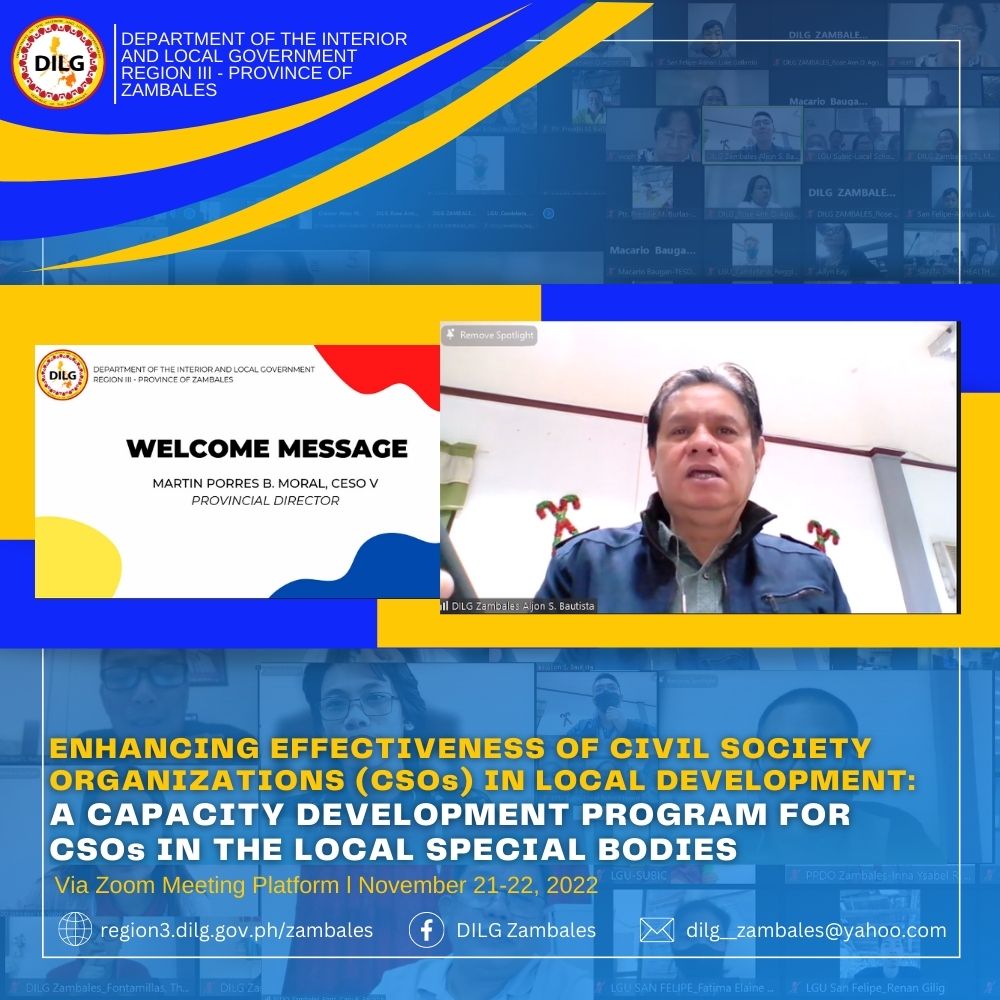 To further strengthen the awareness and understanding on the importance of their role as representative-organizations to the Local Special Bodies (LSBs) and to increase their capacity to effectively engage in local governance, the Department of the Interior and Local Government (DILG) Zambales, in partnership with the Provincial Government of Zambales (PGZ), facilitated the Capacity Development (CapDev) Program for Civil Society Organizations (CSOs) on November 21-22, 2022 via Zoom cloud meetings.
The two-day activity was attended by CSO Representatives to the Local Health Boards (LHBs) and Local School Boards (LScBs) of the 14 LGUs of Zambales on the first day and CSO Representatives to the Municipal Development Councils (MDCs) on the second day.
In his message, DILG Provincial Director Martin Porres B. Moral underscored that even with the passage of the Local Government Code (LGC) of 1991 mandating the LGUs to promote the establishment of CSOs, the challenges remain in the effective participation of the CSOs in the LSBs. He then explained that the DILG has initiated efforts in empowering the CSOs to perform their respective roles and responsibilities through the conduct of capacity development interventions. "...gusto nating maging effective ang [kanilang] participation that is why we are having this para malaman ang roles and responsibilities ng bawat isa. When we know the roles and responsibilities, it is only then we can effectively discharge our roles sa mga LSBs kung saan tayo ay mga members", he added.
Chief Education Supervisor, Ms. Ailyn Eay of the Department of Education (DepEd), Dr. Noel C. Bueno, Dra. Madonna R. Alegado and Ms. Maria Victoria J. Figuerres of the Provincial Health Office (PHO), Provincial CSO Desk Officer Inna Ysabel R. Ferrer. Engr. Peter Rick C. Navora and Engr. Cary R. Fallorin of the Provincial Planning and Development Office (PPDO), served as Resource Speakers.
Cluster Team Leader Melissa D. Nipal also zeroed in on her discussions the vital roles of the CSOs in the over-all local development and as critical partners of the LGUs in local governance.
The CapDev Program for CSOs in the LSBs is one of the programs of the DILG cognizant that developing and strengthening partnerships with CSOs is equally important as developing the internal capacities of the local governments. This initiative, with the help of the CSO Desk Officers, is being conducted in order to empower citizens to articulate their needs as they participate in the decision-making process, program planning, monitoring and evaluation at the local level which can increase the responsiveness and efficiency of local governments in delivering basic services.