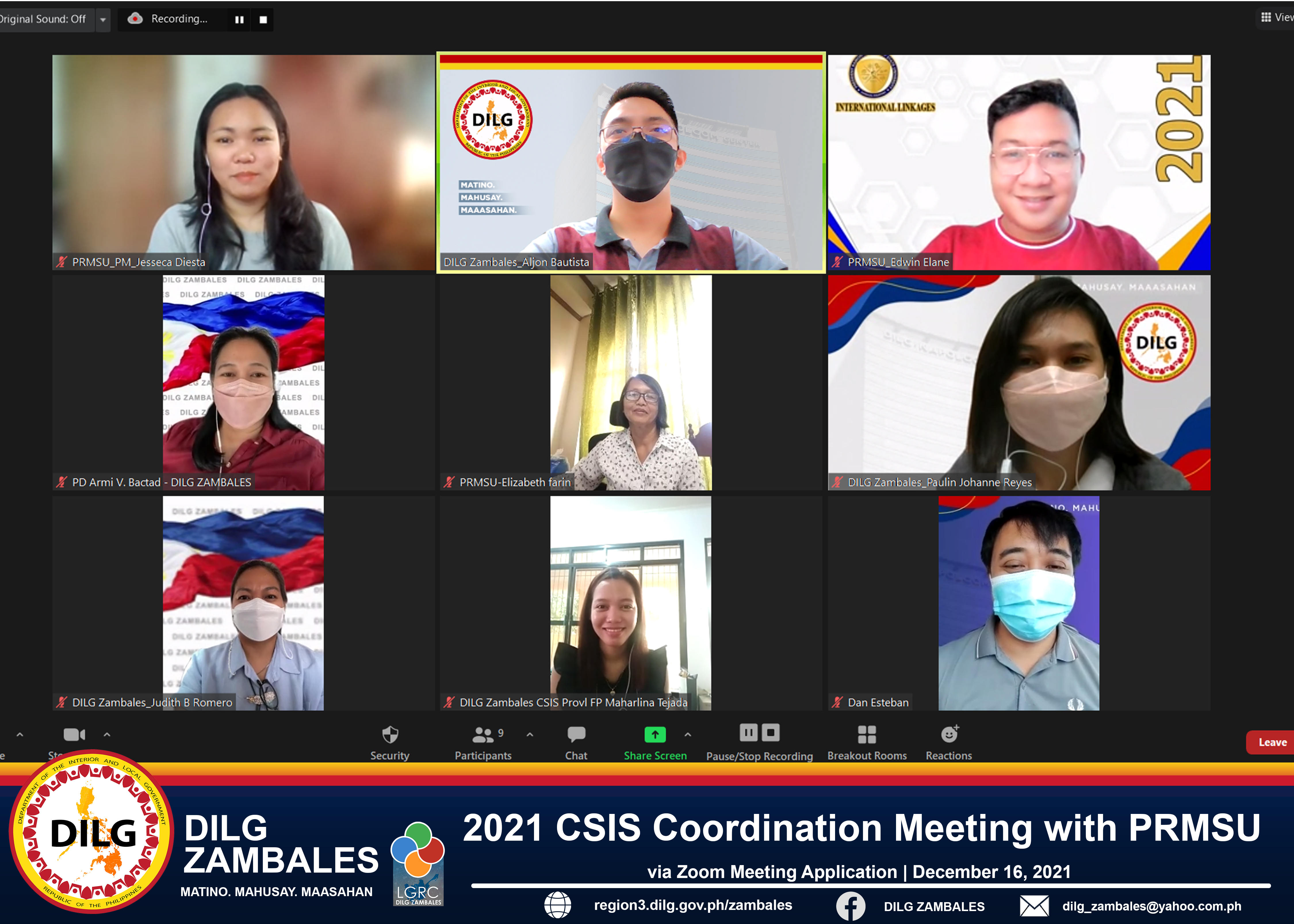 DILG Zambales headed by Provincial Director Armi V. Bactad, CESO V conducted a coordination meeting with the President Ramon Magsaysay State University (PRMSU) regarding the status of implementation of the Citizen Satisfaction Index System (CSIS) Program in the Municipality of Botolan, Zambales, today, December 16, 2021 via zoom meeting application.
Said meeting provided a venue for the PRMSU to update the DILG Zambales on the status of the CSIS implementation and share the challenges they encountered in implementing the said program.
The activity was attended by Dr. Elizabeth N. Farin- Vice president for Research, Extension, Training, and Production of PRMSU, Mr. Edwin E. Elane- Assistant Director for International linkages/CSIS Field Supervisor, Ms. Jesseca Ruth Diesta, CSIS Project Manager and DILG Zambales headed by Provincial Director Armi Bactad together with Cluster Team Leader Judith Romero, Program Manager Paulin Johanne Reyes, CSIS Provincial Focal Maharlina J. Tejada, Alternate Focal Person LGOO VI Dan A. Esteban and LGOO II Aljon S. Bautista.
In her message PD Bactad thanked the PRMSU for being an active partner of the Department in the implementation of its programs. PD Bactad recognized the expertise of the PRMSU in research which is vital in the implementation of the CSIS.
"Napakahirap po ngayon sa panahon ng pandemic na magconduct ng mga ganitong survey. Partner po tayo sa advocacy na ito na magkaroon ng maayos at magandang paggogobyerno na mararamdaman ng mga tao, ng mga pinagsisilbihan natin na umaayos at gumaganda ang ating local government", PD Armi emphasized.
The CSIS is a mechanism pioneered by the DILG to generate relevant citizens' feedback on the local governments' service delivery performance. It was developed to serve as a tool for drawing applicable information for evaluating citizen satisfaction in the different services provided by the local government units (LGUs), in partnership with local resource institutions (LRIs).
Prepared by:
Maharlina J. Tejada