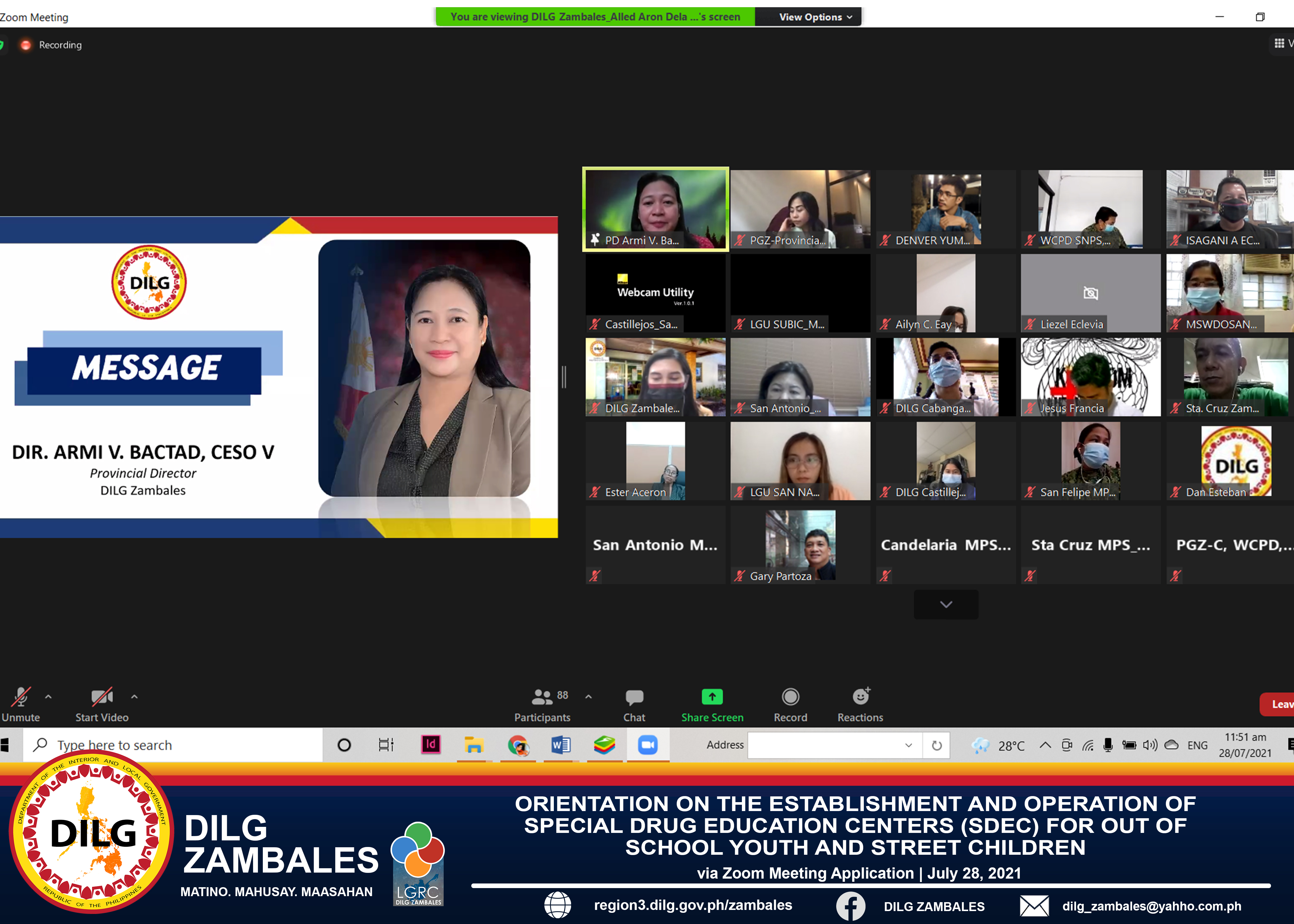 Aiming to promote programs for drug abuse prevention with the end in view of educating the out-of-school-youth (OSY) and street children regarding the pernicious effects of drug abuse, the Department of the Interior and Local Government (DILG) Zambales headed by Provincial Director Armi V. Bactad, CESO V, successfully carried out the 1-day "Orientation on the Establishment and Operation of Special Drug Education Center (SDEC) for Out of School Youth and Street Children" on July 28, 2021 via Zoom video conferencing platform.
The activity was participated in by the Provincial and Municipal Social Welfare Development Officers, Sangguniang Kabataan (SK) and Liga ng mga Barangay Federation Presidents, Representatives from the Local Health Office, Department of Education (DepEd), Civil Society Organizations (CSOs), PNP Women and Children Desk Officers, and LGU Anti-Drug Abuse Council (ADAC) Focal Persons—who will be partners and key implementers of the SDEC facility. The said undertaking then served as a venue to capacitate the key implementers of the said facility.
Cluster Team Leader/LGOO VII Judith B. Romero provided an overview of the activity and brief background on the legal bases of amending the DILG Memorandum Circular No. 2006-150 on the establishment of SDECs, emphasizing the need to update the said policy to include new guidelines, processes, and tools to better implement SDECs due to the growing demands of anti-illegal drugs intervention.
In her message, PD Armi V. Bactad stressed the important roles of local officials and functionaries who serve as the key players and stakeholders on the government's fight against illegal drugs. PD Bactad further encouraged everyone to always look out for the well-being of the young people—who are more vulnerable to drug and substance abuse.
"Coming together is a beginning, keeping together is progress, and working together is success," PD Bactad quoted Henry Ford as she emphasized the significance of concerted efforts to pursue balanced and wholistic approach at the local government level.
LGOO VI Maharlina Tejada, Provincial ADAC Focal Person led the discussion of the DILG Memorandum Circular 2021-01 dated January 4, 2021, which provides the guidelines, processes, and tools in establishing the SDEC. Likewise, reports to be accomplished and submitted by the LGUs were also presented.
SDEC is a community-based facility which serves as a venue for promoting preventive and developmental services for OSY and Street Children in pursuant to Section 46 of R.A. No. 9165 otherwise known as the Comprehensive Dangerous Drug Act of 2002, which provides that "With the assistance of Dangerous Drug Board, the Department of the Interior and Local Government, National Youth Commission and Department of Social Welfare and Development shall establish in each of its provincial offices a Special Drug Education Center (SDEC) for Out of School Youth (OSY) and Street Children".
By: LGOO II Aljon S. Bautista