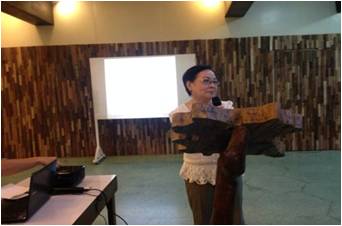 The local government here recently launched a more comprehensive and action-centered approach to environmentally sustain one of the major waterways of this city. During the launching, OIC City Director Remedios M. Rodriguez discussed to the group the Supreme Court Decision cum Resolution, Key Performance Indicators and SC Continuing Mandamus regarding the Manila Bay Clean Up and Rehabilitation Project.


Francis Pangilinan, City Environment and Natural Resources Officer, mentioned that the Sapang Balen Creek Rehabilitation Project is a continuing effort to input measures that will minimize, if not totally eradicate, solid and liquid waste pollution in the creek. Our 'Lingap king Sapang Balen' has gone a long way. To maintain all what we have started, we are piloting an all-inclusive approach of which this rehabilitation project is all about," Pangilinan said.

The program will center on the sustained and coordinated projects and activities wherein communities along the Sapang Balen creek are expected to participate in the series of clean-up drives.

Affirming to this, Pampanga Auxiliary Bishop Pablo Virgilio David, founder of the early "Sagip Sapang Balen" movement, said that the participation of the residents alongside the creek is vital for the success of the program. "A clean-up drive is a mere 'janitorial approach'. It will only be successful if the lead agents are the people who live along the creek," said Bishop David.

Mayor Edgardo Pamintuan, on the other hand, challenged the Punong Barangays especially those barangays traversing the Sapang Balen Creek, to remain keen in monitoring their respective clusters. "This is a more intensified approach for our environmental program. It is about time to encourage each Angeleño to actively do their part towards the regeneration of Sapang Balen," said Pamintuan.

The City Environment and Natural Resources Office (CENRO) reported that 14.32 tons of wastes along the 10.89 kilometer stretch of the creek were collected. This was made possible through the conduct of 14 successful Sapang Balen clean-up drives during Pamintuan's last term.

In the new Sagip Sapang Balen Rehabilitation Project, partners such as government and private organizations will be encouraged to adopt a specific portion of the creek where cleaning and monitoring will be done. In the barangay level, values formation as well as awareness and information campaign about the city's ordinances concerning RA 9003 or the Ecological Solid Waste Management Act will be pursued.

Community environmental police units will also be assigned to secure and protect the creek from possible litterers. For his current term, Pamintuan seeks to strengthen his environmental advocacies and has included in his Contract with the Angeleños (CWA) 2013 the establishment of eco-parks along the banks of the creek and the creation of the Sapang Balen Creek Management Council in support to Manila Bay Clean-Up and Rehabilitation Project.