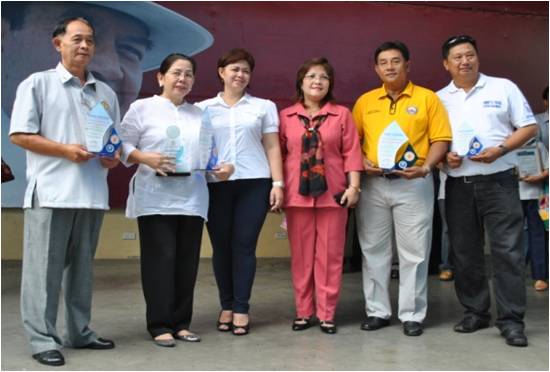 The DILG headed the implementation of Olongapo City's 2012 Lupong Tagapamayapa Incentives Awards (LTIA) which aims to strengthen the Katarungang Pambarangay (KP) as an indigenous conflict resolution structure at the grassroots and  recognize lupons which demonstrated exemplary performance.
The Olongapo City Awards Committee is chaired by DILG City Director Araceli A. San Jose with DOJ City Prosecutor Atty. Emilie Fe M. delos Santos as vice chairman.  Other members of the Committee are Municipal Trial Court in Cities Judge Merinnisa O. Ligaya,  Liga ng mga Barangay President Carlito A. Baloy, City Councilor Rodel Cerezo and Ms. Josefina Soberon who represented the City Peace and Order Council and city-based NGOs, respectively.
The Awards committees assessed and evaluated the performance of the 17 lupons of the city which were divided into 2 categories – the regular lupons and the national hall of fame awardees.  Thirteen lupons under the regular lupon category and four lupons under the hall of fame awardees category were assessed and evaluated on the first week of February 2012 based on three criteria: 1) efficiency in operations,  2) effectiveness in securing of KP Objectives; and 3) creativity and resourcefulness of Lupong Tagapamayapa.  The most outstanding lupon under the regular lupon category is Olongapo City's nominee to the Regional LTIA.  Meanwhile, the national hall of fame awardees were assessed based on continuous excellent performance in the implementation of the KP.  This is to maintain if not increase the level of excellence of these lupons.
The following are the result of the 2012 Olongapo City LTIA:
Regular Lupons Category:
Most Outstanding:
Barangay East Bajac-Bajac
1st Runner Up: 
Barangay West Bajac-Bajac
2nd Runner Up: 
Barangay Pag-asa

Hall of Fame Awardees Category:
Most Outstanding:
Barangay Old Cabalan
1st Runner Up :
Barangay Barretto
RD Florida M. Dijan, CD Araceli A. San Jose, and Olongapo City Mayor James Gordon, Jr. led the recognition of the outstanding lupons of the City in a fitting ceremony on March 12, 2012 at the Rizal Triangle, Olongapo City.  The awardees were given plaques of recognition and cash award courtesy of the City Government of Olongapo.
During the said ceremony, RD Dijan also bestowed the award of excellence to Barangay East Bajac-Bajac for winning the 2011 Regional LTIA under the Highly Urbanized Cities category.
The LTIA is institutionalized in Olongapo City.  As such, the City is proud to have produced numerous regional and national hall of fame awardees under the said Awards Program and it is now pinning its hope on Barangay East Bajac-Bajac to become the 5th LTIA hall of fame awardee from Olongapo City.