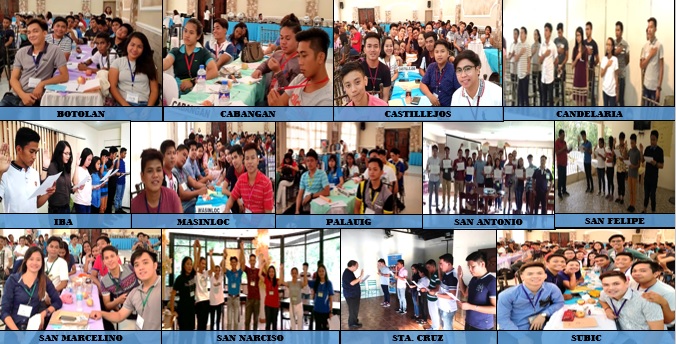 To guarantee the recognition of the roles of the youth in nation building, The Department of Interior and Local Government (DILG) Zambales spearheaded the conduct of SK Pambayan and SK Panlalawigan Pederasyon Orientation and Election last May 28-29, and June 7, 2018. The said activities were held in different venues.
The nationwide conduct of the activity is in compliance with Section 21 (b) of RA 10742, otherwise known as the "SK Reform Act of 2015" wherein the Pederasyon ng mga Sangguniang Kabataan at all levels, shall elect from among themselves subsequent to the conduct of SK Mandatory Training.
During the conduct of SK Pederasyon Orientation last May 28, 2018, the DILG Zambales lectured on the Legal Basis of the SK federation, Its Powers and Function particularly the federated Officers, the Constitution of the Election Committee and nominations of Candidates for the Officer of the Federation.
The SK Pambayan and Panlalawigan Pederasyon nomination and votation was facilitated by the Election Committee and Board of Election Supervisors (BES) and was attested by the Panel of Observers composed of representatives from the PNP, Academe and Civil Society Organizations. 
Leading the new set of SK Panlalawigan Pederasyon Officers is Ms. Keith Doble from Botolan who was elected as president.
Listed below are the SK Pambayan Pederasyon Presidents in the 13 Municipalities of Zambales:
LGU

President

NAME

BARANGAY

BOTOLAN

KEITH D. DOBLE

SAN JUAN

CABANGAN

JEROME DELA CRUZ

SAN JUAN

CANDELARIA

JOHN CYRIL R. COLLADO

POBLACION

CASTILLEJOS

ZEKIAH LEE D. TIONG

STA. MARIA

IBA

KENT HARVEY C. ANTONIO

STO. ROSARIO

MASINLOC

LEVY P. EDUVALA

TALTAL

PALAUIG

JOHN PATRICK M. ABUJEN

LIOZON

SAN ANTONIO

MERALD NIÑO A. ALBINO

BURGOS

SAN FELIPE

CLIFFORD JOHN F. GALARPE

ROSETE

SAN MARCELINO

FLORENCE P. COBARDO

LINASIN

SAN NARCISO

AILAINE A. RIMAN

LA PAZ

SANTA CRUZ

FRANCIS RAY A. MADARANG

BIAY

SUBIC

MARIA BERNZ S. BATIQUIN

ASINAN PROPER
The Oath taking of the elected SK Pambayan and Panlalawigan Pederasyon Officers immediately took place after the proclamation of the winners officiated by their respective Local Chief Executives last May 29 and June 7, 2018 respectively. All elected SK Officials will assume office at noon of June 30, 2018.