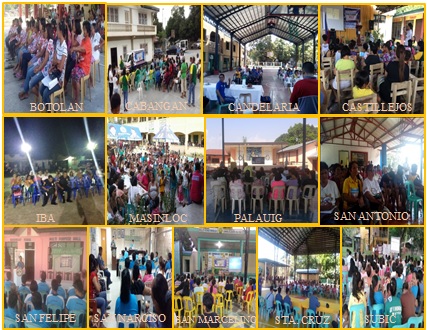 In line with the theme Sulong Kontra Droga, Krimen at Katiwalian, Makialam! Makilahok! Makiisa! Pederalismo, Dito sa Barangay Mismo, the barangays in Zambales, spearheaded by the Punong Barangays and their Councils conducted their respective Barangay Assemblies from March – April 2017. 
The event was attended and participated by the barangay residents, local officials and functionaries, Civil Society Organizations and National Government Agency representatives from DILG, PNP and BFP.
The barangays provided massive information campaign and discussed relevant programs and projects to curb the proliferation of illegal drugs. Likewise, the MASA MASID Program was also emphasized wherein volunteers are urged to join as partner implementers.  Other programs such as Disaster preparedness, full disclosure policy, solid waste management, health and sanitation, education, sports, youth development and Kasambahay Law were also discussed.
It also served as a venue in advocating "PHederalism" in order to solicit support and increase awareness in the barangay level. This is a play on the words "Philippines" and "federalism," that refers to the Philippines' own model of the federal system of government.
The conduct of Barangay Assembly is in compliance with DILG Memorandum Circular No. 2017-31 dated February 13, 2017, Section 397 (b) of Republic Act No. 7160 or the Local Government Code of 1991 which mandates all barangays to conduct their barangay assemblies at least twice a year to hear and discuss the semestral report of the barangay concerning its activities and finances as well as problems affecting the barangay.