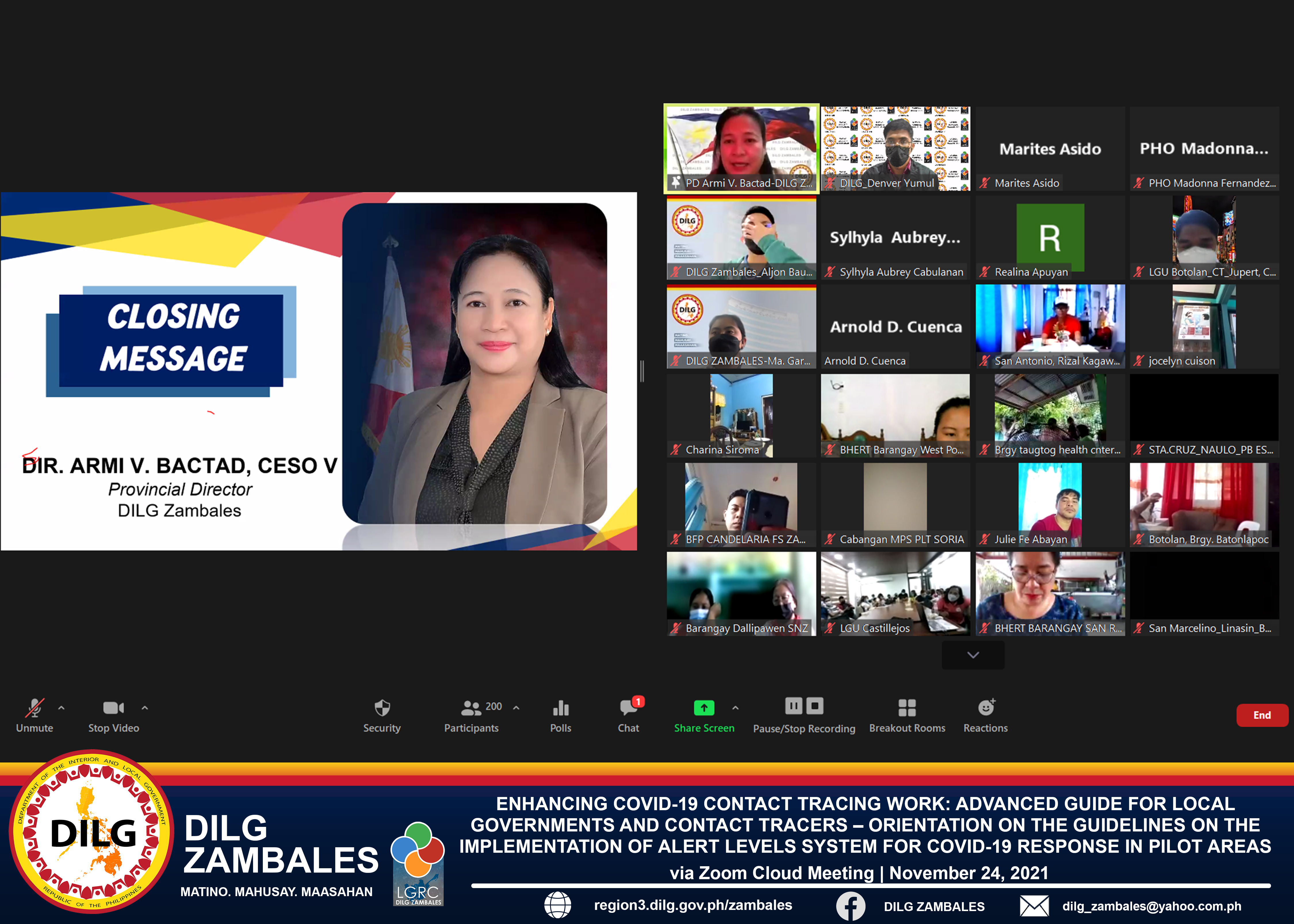 The DILG Zambales led by Provincial Director Armi V. Bactad, CESO V, conducted the "Provincial Roll Out on Enhancing COVID-19 Contact Tracing Work: Advanced Guide for Local Governments and Contact Tracers – Orientation on the Guidelines on the Implementation of Alert Levels System for COVID-19 Response in Pilot Areas" on November 24, 2021 via zoom meeting platform. The activity aims to inform the local government units (LGUs) with public health and social measures to be taken in the implementation of the new alert levels system.
The orientation for the thirteen (13) municipalities of Zambales was participated by over 300 participants, which were composed of DILG-hired Contact Tracers, LGU Contact Tracers, together with Philippine National Police (PNP) and Bureau of Fire Protection (BFP) personnel acting as contact tracers, members of Barangay Health Emergency Response Team (BHERT) and LGU volunteers from the province of Zambales.
In her message, PD Bactad expressed her sincerest gratitude to all participants who actively took part in this activity, especially to all local and national governments with their continuous efforts through strategic planning towards a safe and protected nation.
She also stressed that minimum public health standards should be continuously adhered to despite the gradual decreasing of COVID-19 cases in the Province. PD Bactad further emphasized that being vaccinated is a social responsibility - the DILG Provincial Director explained that by being vaccinated, one is not simply securing their own protection from the virus, they indirectly secure the protection of the individuals around them as well.
"Whole of government, whole of nation approach po itong ginagawa natin, lahat po tayo ay stakeholders sa war na kung saan ang kinakaharap po natin ay hindi natin nakikita ang kalaban," PD Bactad emphasized.
LGOO VI Dan A. Esteban, Municipal Local Government Operations Officer (MLGOO) of LGU- San Narciso discussed the Salient features of the Guidelines on the Implementation of Alert Levels Systems for COVID-19 Response in Pilot Areas. LGOO VI Esteban explained that the alert level systems are the new Community Quarantine Classifications to be adopted for a more strategic way of dealing with COVID-19. This shall cover entire provinces, cities, municipalities and/or regions, as may be deemed necessary— aiming to manage and minimize the risk of the disease through System Indicators, Triggers and Thresholds determined by the IATF. The system serves as a guide to specify the public health and social measures to be undertaken in relation to the COVID-19 response, and may be updated based on new scientific knowledge, information about the effectiveness of control measures in the country and overseas, and its application.
Afterwards, Dr. Madonna Rodriquez-Alegado from Provincial Health Office (PHO) presented the Updates on the Vaccination Program in the Province. Dr. Alegado also shared the Philippine National and Vaccination Plan for COVID-19, in order to educate the participants on the importance of being vaccinated to expedite the nation's transition to the new normal.
Prepared by: Engr. Jess B. Edillor and LGOO VI Dan A. Esteban