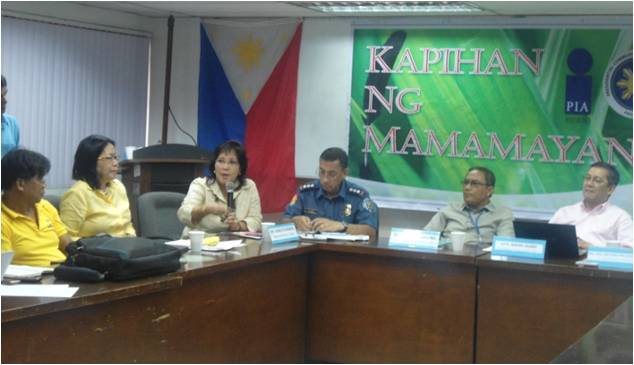 DILG-3 Regional Director Florida M. Dijan participated in the forum organized by the Philippine Information Agency dubbed as "Kapihan ng Mamamayan" held on May 8, 2013 at NEDA Conference Room. It was also attended by Regional Directors of DepEd, COMELEC and the AFP.
RD Dijan stressed that the Department focuses on the monitoring of Local Governance Transition Teams as per Memorandum Circular No. 2013-33 issued by DILG Secretary Mar Roxas. The team shall ensure a smooth local governance transition to the newly-elected or re-elected local officials on June 30, 2013. They shall conduct an inventory of all LGU properties, assemble all documents or records, turn-over accountabilities and organize a turn-over ceremony.
On the other hand, OIC RD Rafael Olaño informed the group that the official ballots are already at the office of the municipal and will be delivered in respective precincts early morning of May 13. Further, PCOS machines are already in place.
Other topics discussed were liquor ban which will be effective five days before the election and will be lifted on May 14, 2013; and vote buying wherein the COMELEC with NBI and PNP are the main government agencies in charge. They are continuously conducting surveillance operations. Penalty of one to six years of imprisonment for the offense of vote buying will also be strictly enforced.
Director Dijan likewise said that the DILG is coordinating with the PNP regarding vote buying and any possible reports that may occur. Finally, she reminded the DILG staff not to be involved in partisan activities nor indorse any candidate nor drag the Department's name in bad light.