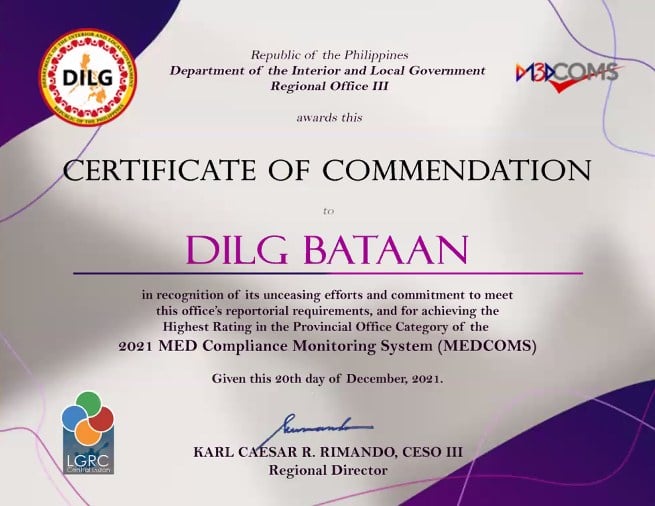 Congratulations to DILG Bataan Team and its Monitoring and Evaluation Section (MES) as they once again achieved the highest overall rating (1st Place) of DILG R3's Monitoring and Evaluation Division Compliance Monitoring System (MEDCOMS) for FY 2021.

The recognition was received by PD Myra Moral-Soriano during the DILG Region III's Year-End Evaluation cum Awarding of Best Performing Provincial and HUC Offices on December 20, 2021.

MEDCOMS is an institutionalized web-based tracking system established by DILG R3's Monitoring and Evaluation Division to maintain accurate ratings on timeliness and accuracy of reports. DILG Bataan earned the 3-peat with MEDCOMS over-all first placers for FYs 2019, 2020 and 2021.

Warmest appreciation and gratitude to our Bataan C/MLGOOs for their prompt and accurate submission of LGMED reports which contributed to the province's overall performance this year. DILG Bataan also offers this recognition to our hardworking, compliant and dedicated LGUs!

MES-DILG Bataan is headed by Program Manager and MES Chief Allan Don Malonzo, under the support and guidance of PD Myra Moral-Soriano and Cluster Head Melissa Nipal.