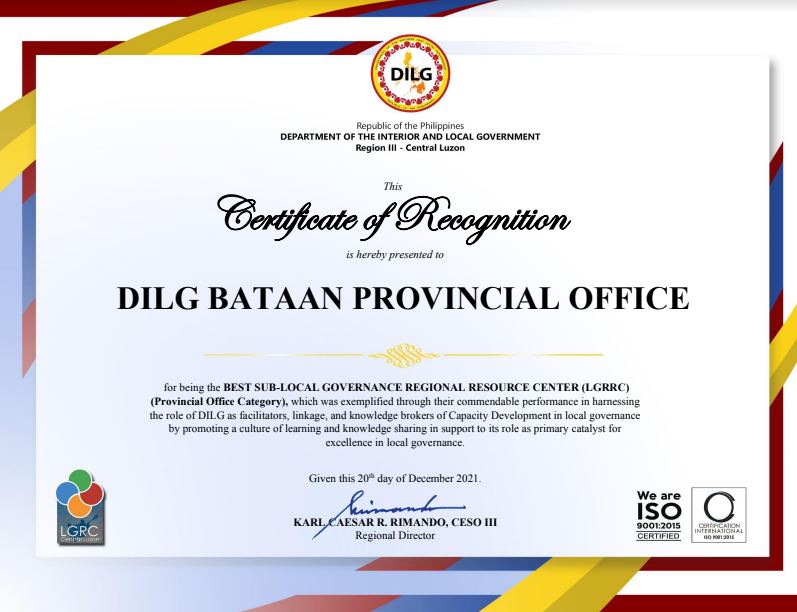 DILG Bataan reaped multiple major awards in the DILG Region III's Year-End Evaluation cum Awarding of Best Performing Provincial and HUC Offices on December 20, 2021.

Said activity recognized the efforts of the DILG R3 field offices that contributed to the accomplishment of the Region's overall performance for FY 2021.

The Bataan Team bagged various First Placers which include the 2021 MEDCOMS, Best Sub-LGRRC, Best PO in the Promotion and Advocacy of the Department PPAs and Submission of Devolution Transition Plans (DTPs) in the barangay, city/municipal and provincial level.

The awards were personally received by Dir. Myra Moral-Soriano while Bataan field officers and PO personnel attended via Zoom online platform.

Several DILG Bataan personnel were also recognized for imparting their technical expertise and firm commitment in effectively implementing the DILG programs, projects and activities this year.

Provincial Awards:
1st Place: FY 2021 MED Compliance Monitoring System (MEDCOMS)
1st Place: 2021 Q4 MED Compliance Monitoring System (MEDCOMS)
1st Place: Best Sub-Local Governance Regional Resource Center (LGRRC)
1st Place: Best Provincial Office in the Promotion and Advocacy of the Department's PPAs
1st Place: Best DILG Provincial Office (Submission of Barangay DTPs)
1st Place: Best DILG Provincial Office (Submission of City/Municipal DTPs)
1st Place: Best DILG Provincial Office (Submission of Provincial DTPs)
LGU/Individual Awards and Recognitions:

1st Place
Brgy. Alangan, Limay (LGOO VI Evelyn C. Matias)
2021 National and Regional LTIA
1st to 3rd Class Municipal Category
1st Place - 2021 Regional BECA (City)
Brgy. Lote Pto. Rivas, City of Balanga
LGOO VI Jomar M. Cruz
3rd Place - 2021 Regional BECA (Municipal)
Brgy. San Antonio, Bagac
LGOO VI Catherine R. Aduna
1st Place
Balanga City, Bataan (LGOO VI Jomar M. Cruz)
2021 National Fisheries Compliance Audit (FishCA)
1st Place
Balanga City, Bataan (LGOO VI Jomar M. Cruz)
2021 Regional Fisheries Compliance Audit (FishCA)
3rd Place
Samal, Bataan (LGOO VI Ma. Jasmin M. Bartolo)
2021 Regional Fisheries Compliance Audit (FishCA)
4th Place
Orion, Bataan (LGOO VI Annie E. Hipolito)
2021 Regional Fisheries Compliance Audit (FishCA)
2nd Place
Balanga City, Bataan (LGOO VI Jomar M. Cruz)
2020 Manila BAYani National Awards and Incentives
1st Place (Region)
LGOO VI Evelyn C. Matias (Limay)
C/MLGOO in Submission and Uploading of Brgy. DTPs
LGOO VI Catherine R. Aduna (Bagac)
Bataan's Best Field Officer in the Implementation of DILG LFPs
Engr. Mark Angelo T. Pumares
Bataan's Best Provincial Engineer in the Implementation of DILG LFPs
LGOO VII Melissa D. Nipal
LGOO VI Ma. Jasmin M. Bartolo
LGOO VI Allan Don L. Malonzo
LGOO VI Johnny F. Mandocdoc
Appreciation of DILG personnel for their technical assistance as resource speakers in R3-CDD activities
ADAS II Vangie C. Rodriguez
Most Active and Zealous Designated HRMO
Heartfelt gratitude and recognition to our DILG field officers and Bataan LGUs for their support which significantly contributed to Bataan's overall performance this 2021. #1Bataan #GalingBataan