DILG Nu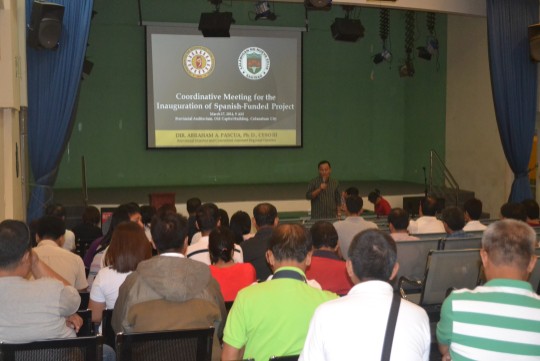 eva Ecija, under the leadership of OIC-Asst. Regional Director and concurrent NE PD Abraham A. Pascua, hosted on March 17, 2014 at the Provincial Auditorium in Cabanatuan City a Coordinative Meeting in preparation for the Inauguration of the Humanitarian Emergency Assistance Warehouse to be held on March 25, 2014 in Air Force City, Clark Field, Pampanga.
Among the attendees were the Provincial Government of Nueva Ecija – through the Provincial Engineer's Office, Provincial Treasurer's Office, Provincial Disaster and Risk Reduction Management Council and the Provincial General Services Office, as well as the Municipalities of Aliaga, Sto. Domingo, Zaragoza, Carranglan, Llanera, Rizal, Gabaldon and Laur and the City of San Jose. These Local Government Units, as represented by their respective Local Chief Executives, Municipal Planning and Development Officer (MPDO), Municipal Agrarian Officer (MAO) and Municipal Local Governemnt Operations Officer (MLGOO), are the lucky recipients of the Spanish assistance extended to help recover from Typhoon Quiel's and Pharma's damages in the province.

In the inauguration, all the heavy equipment, learning materials and infrastructure and livelihood projects will be showcased for the Spanish delegation headed by His Excellency Jose Manuel Garcia-Margallo y Marfil to appreciate the products of their goodwill.

ARD Pascua reiterated during the Coordinative Meeting the importance of the said activity that all involved must prepare with full cooperation and excellence as a way of showing how thankful the Novo Ecijanos are for extending such kindness.