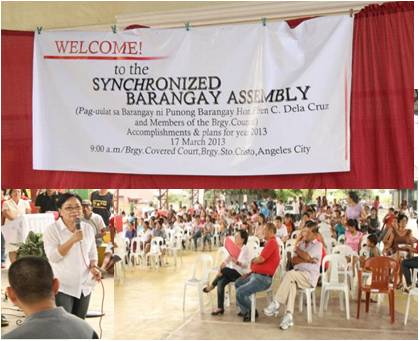 City Director Remedios M. Rodriguez issued an Advisory to all Punong Barangays of Angeles City urging them to hold a "Barangay Assembly" in their respective areas on the very day pursuant to Proclamation No. 260 dated September 30, 2011 issued by President Benigno S. Aquino III and DILG Memorandum Circular No. 2012-156 dated Sept. 18, 2012.
Barangay Sto. Cristo, of this city is the second barangay to conduct said assembly last March 17, 2013 at the barangay's Covered Court. Barangay Tabun was the first one to conduct last March 10, 2013.
CD Rodriguez shared the importance of conducting Barangay Assembly twice a year. She said "The primary objective of the event is for barangay officials and residents to have dialogue on the different issues and concerns affecting the barangay such as peace and order, disaster preparedness, solid waste management and other concerns. It is an important vehicle for eliciting citizen opinion on pressing issues and mobilizing their participation in local and national programs and projects. It is also a venue to offer suggestions to improve the delivery of basic services, and proposing income generating projects to improve the quality of life of the barangay residents."
Punong Barangay Efren Dela Cruz presented his State of Barangay Address (SOBA) with emphasis on CY 2012 Second Semester Accomplishments, Financial Reports and Updates on CY 2013 First Semester on-going programs.
One of the guests during the Assembly is the active member of PPCRP Mr. Noel Sibal.