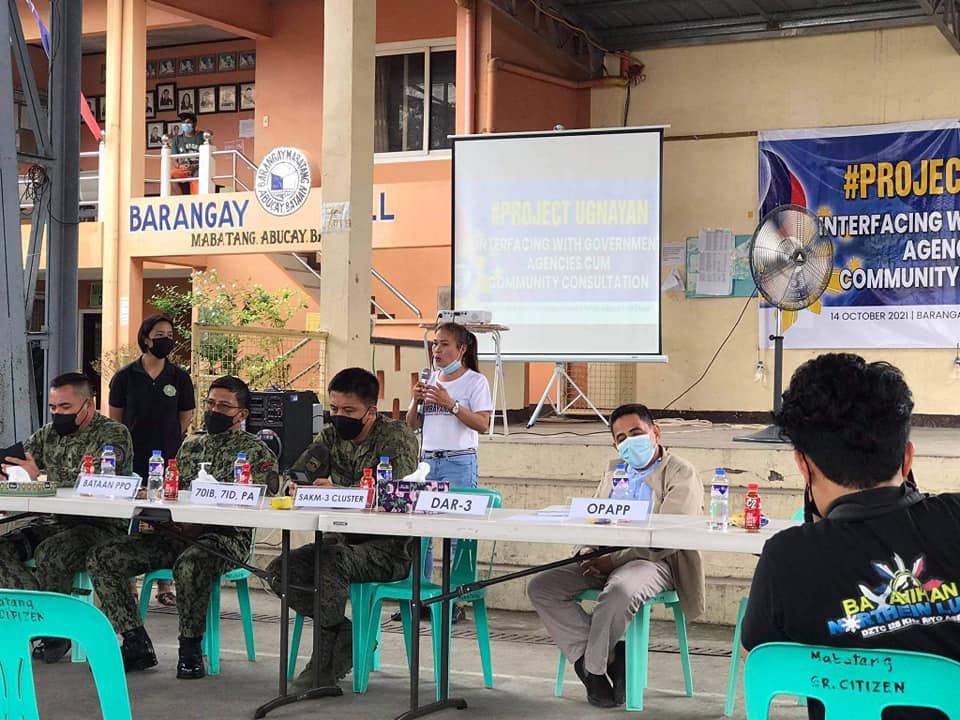 Pursuant to Executive Order 70 or The Whole of Nation Approach, an Interfacing with Government Agencies cum Community Consultation dubbed as #ProjectUgnayan, was conducted on October 14, 2021 at Mabatang Covered Court, Abucay, Bataan.

The said activity was spearheaded by the Situational Awareness and Knowledge Management (SAKM) Cluster 3 of the RTF-ELCAC 3. It was attended by 30 farmer-leaders of the Samahan ng Magsasaka sa Bataan (SMB) and representatives from different line agencies (DA, CDA-3, DILG, OPAPP, DAR, 70 IB of the Philippine Army, Bataan PPO, Abucay MPS, DSWD-3, DOLE, TESDA, DTI). SMB are former members of the CTG-affiliated Alyansa ng mga Magbubukid ng Gitnang Luzon (AMGL).

#ProjectUgnayan aims to empower former CTG members to become self-sufficient and help them earn a living through the provision of livelihood assistance.

The agencies presented and discussed their various programs and projects that can be availed by the members of SMB. PD Myra Soriano of DILG Bataan advised the SMB Members to coordinate with LGOO VI Maribel Patawaran, MLGOO of Abucay and apply as a CSO partner in the Local Development Council of LGU Abucay for them to be involved in governance.
However, the main concern of the farmer-leaders of SMB are the certificates of land ownership award (CLOA) of the lands that they are farming, thus representative from DAR Bataan advised these leaders to go directly to the DAR Office to be properly assisted regarding the matter.

The activity ended by distribution of packages prepared by the Bataan Provincial Police Office for the members of SMB.