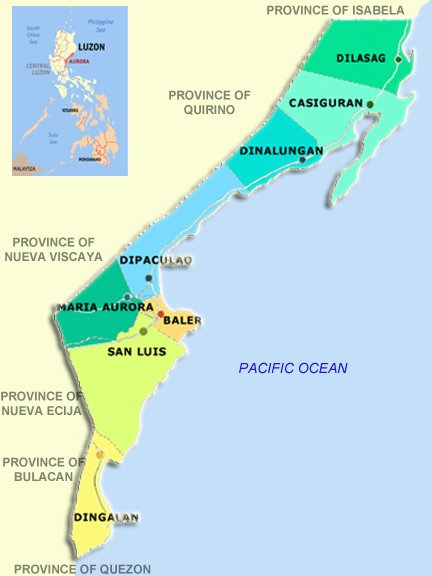 Aurora lied on the farther side of the fresh dense growth of trees of the Sierra Madre mountain range on the eastern part of Luzon. The province has a green and mountainous terrain. It is bounded by the province of Isabela on the north, by Pacific Ocean on the east, by the province of Quezon on the south, and by the provinces of Nueva Ecija, Nueva Viscaya and Quirino on the west. The Sierra Madre mountain range, the place where tauna and flora are the most concentrated and waterfalls, rivers, and streams of different sizes are situated, includes a big part of the province of Aurora.
Aurora has a total land area of either 308,122 hectares or 323,954 hectares. The principal connection of Aurora to the rest of Luzon is a limited in width mountain gravel road following a winding course from one side to the other side of the Sierra Madre mountain ranges between Baler town and Bongabon town in Nueva Ecija. Aurora is divided into eight municipalities and 151 barangays. It is classified as a 5th class province with one congressional district. Baler, the provincial capital, is about 232 kilometers from Manila.
Aurora has the average weather condition characterized by rainfall, which is approximately without variation during the whole year. It is regularly beaten with heavy blows by cyclones coming from the Pacific Ocean.
Aurora had a population of 173,797 with an annual youth rate of 684 percent according to the national statistics survey of May 2000. Majority of the people of Aurora speak Tagalog and a few speak Ilocano. The working population is ready in speech in the English language as well as in the Filipino language. The basic economy of Aurora is agricultural. Copra, rice, rootcrops and banana are its principal agricultural products. Weaving, particularly of buntal hats, is a significant cottage industry. Fishing production can be made greater in Dinagalan Bay and Casiguran Sound but it is believed to reduce because of over-fishing and sedimentation in Baler Bay. Lumber, rattan and almaciga are its major forest resources. Its forest is under serious threats from cutting of trees for lumber by illegal loggers.