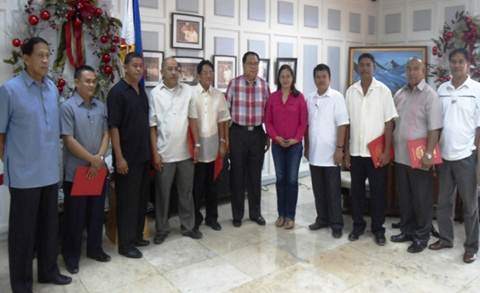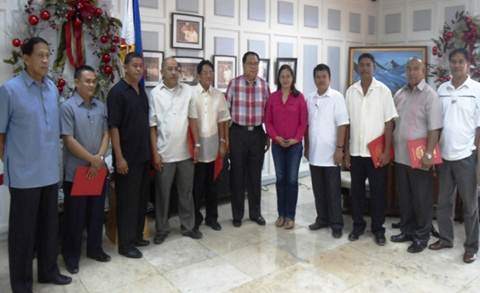 A new set of officers of the Liga ng mga Barangay Zambales Provincial Chapter for the term 2013-2016 was elected and proclaimed at the Conference Room of the DILG Provincial Office, Iba, Zambales last December 18, 2013.
The election-meeting which was synchronized nationwide, took place as provided under Memorandum Circular No. 2013-139 issued last December 2, 2013 by the DILG.
It was administered by the Election Committee chaired by Hon. Romelino R. Gojo (Iba) with the presence of the Board of Election Supervisors to make sure that the election rules were strictly followed.
The Board of Election Supervisors were DILG Provincial Director Armi V. Bactad, CESO V as chair together with Ms. Janeth Surla, COMELEC Representative, Mr. Charlie Carreon, DepEd Representative, Ms. Catherine Merete, NGO Representative and Bishop Virginio Ducos, Church Leader as members.
Below is the complete list of newly elected Officers of the Liga ng mga Barangay Zambales Chapter:
President : Hon. Romelino R. Gojo (Iba)
Vice President: Hon. Irwin E. Mata (San Antonio)
Auditor : Hon. Jessie A. Requiño (San Narciso)
Board Members: Hon. Bel P. Altares (Palauig)
Hon. Xavier E. Edora (Masinloc)
Hon Ceferino A. Roldan (Castillejos)
Hon. Felmar M. Movilla (Sta. Cruz)
Hon. Napoleon C. Domingo (San Felipe)
Hon. Osias F. Huerta (Subic)
Meanwhile, the newly elected officers formally took oath before Gov. Hermogenes E. Ebdane, Jr.