Details

Written by

DILG Bataan

Category: DILG Bataan Latest Events
Hits: 670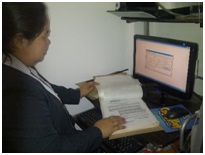 LGUs today are being challengeto keep pace with the changing environment brought about by the digital economy for the continuous improvement in the delivery of basic services to their constituents.
The Sanggunian, as legislative body of the local government unit, is mandated to enact ordinances, approve resolutions and appropriate funds for the general welfare of the local government unit and its inhabitants pursuant to Section 16 of the Code and the proper exercise of the corporate powers of the local government provided in Rule IX.
Last year on September 13, 2013, the Municipality of Pilar, Bataan accepted the challenge and availed of the DILG Project Legislative Tracking Performance Monitoring Project (LTPMP): Sanggunian Information System (SIS). They believed then that said project will improve the delivery of basic services.
The SIS was designed to improve and strengthen the technical and administrative capability of the Sanggunian to effectively discharge their duties through the adoption of information technology. The objectives are: to improve and strengthen the technical and administrative capability of the Sanggunian; to track down various Sanggunian records, transactions and documents in aid of efficient legislation; and to provide status of performance of the individual members and of the various Sanggunian committees.
This year the LGU has completed establishing their database and has adopted the use of the system in their day to day operations. According to Ms. Luisa C. Bernardo, member of the technical working group, their Office is grateful to DILG for providing the system for free. Many of their clienteles like the Barangay Officials have been amazed on how fast their request for copy of Ordinances or Resolutions were provided to them. Likewise, the Sangguniang members lauded the efficiency of the system in minimizing the time and effort required for bringing accurate and relevant information to them.
Such milestone is truly worth replicating for other LGUs who desires continuous improvement and have passion for excellence.