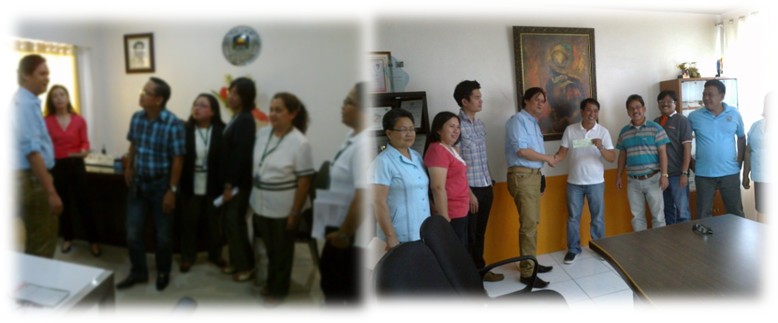 The DILG Region 3 awarded Performance Challenge Fund worth one (1) Million pesos each to the Municipalities of Pilar and Bagac, Bataan. Both LGUs were rewarded for being recipients of the highly coveted 2012 scaled-up Seal of Good Housekeeping Silver level.
The incentive was given on March 12, 2014 by CDD Chief Martin Porres B. Moral on behalf of RD Florida M. Dijan to the Local Chief Executives of both LGUs, namely: 1) Hon. Mayor Alicia D. Pizarro, Pilar, Bataan and 2) Hon. Mayor Rommel V. Del Rosario.
The Department is optimistic that the PCF is will entice eligible LGUs in the form of a counterpart fund to finance high impact local development projects identified as priority by the LGU. The Municipality of Pilar proposed for concreting the Alauli Farm to Market Road Project which aims to facilitate the delivery of government services to the target beneficiaries of 145 families and 30 farmers in the area; while Bagac proposed for the construction project of Slaughterhouse building which will increase revenues and address the pollution of the environment benefiting more than 27,000 population consuming meat of the LGU.