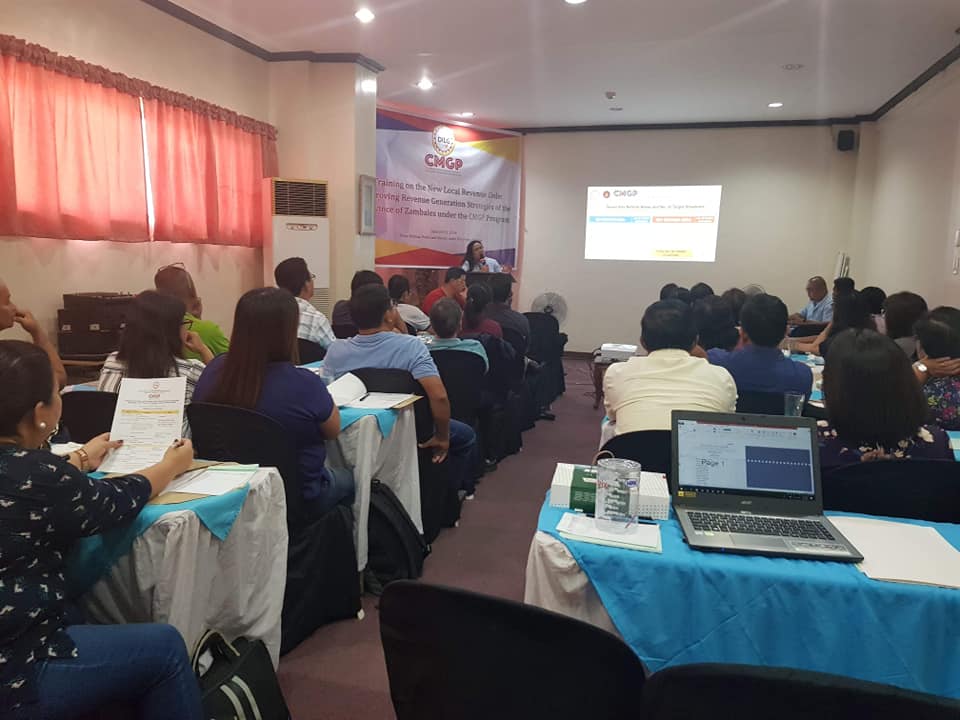 Aiming to improve the technical capacities on increasing revenue generation, the Department of the Interior and Local Government (DILG) Zambales carried out a two-day skills enhancement seminar entitled "Trainingon the New Local Revenue Code: Improving Revenue Generation Strategies of the Province of Zambales", which was funded under the Conditional Matching Grant to Provinces (CMGP) Program. Said undertaking was conducted on June 18-19, 2019 at Vista Marina Hotel and Resort, Subic Bay Freeport Zone (SBFZ) and was attended by Local Functionaries composed of Local Treasurers and Assessors from the thirteen (13) component municipalities and the Provincial Government.
Mr. Emmanuel Adaoag,En.P., Assistant Provincial Treasurer and Local Treasury Operations Officer (LTOO) IV Precy P. Magsino from the Bureau of Local Government Finance (BLGF) discussed the fundamentals of Real Property Tax Administration, Examination of Books of Accounts and Updating of Local Revenue Code. Likewise, LGOO II Rose Ann D. Agostosa, CMGP Focal Person, discussed the CMGP Program updates and has also familiarized the participants on the Provincial Governance Roadmap target situations for the Province of Zambales for 2019.
The 2-day activity initiated by the DILG Zambales, headed by Provincial Director Armi V. Bactad, CESO V has assisted the LGUs in Zambales in assessing their performance on local revenue generation and in conceptualizing strategies on increasing local revenue generation to augment the budget for local road upgrading, rehabilitation and maintenance. The training was part of the capability development interventions of the DILG which aimed to produce annual targets required to achieve the target situation of the Province of Zambales in the seven (7) key governance reform areas on Local Road Management (LRM) and Public Financial Management.