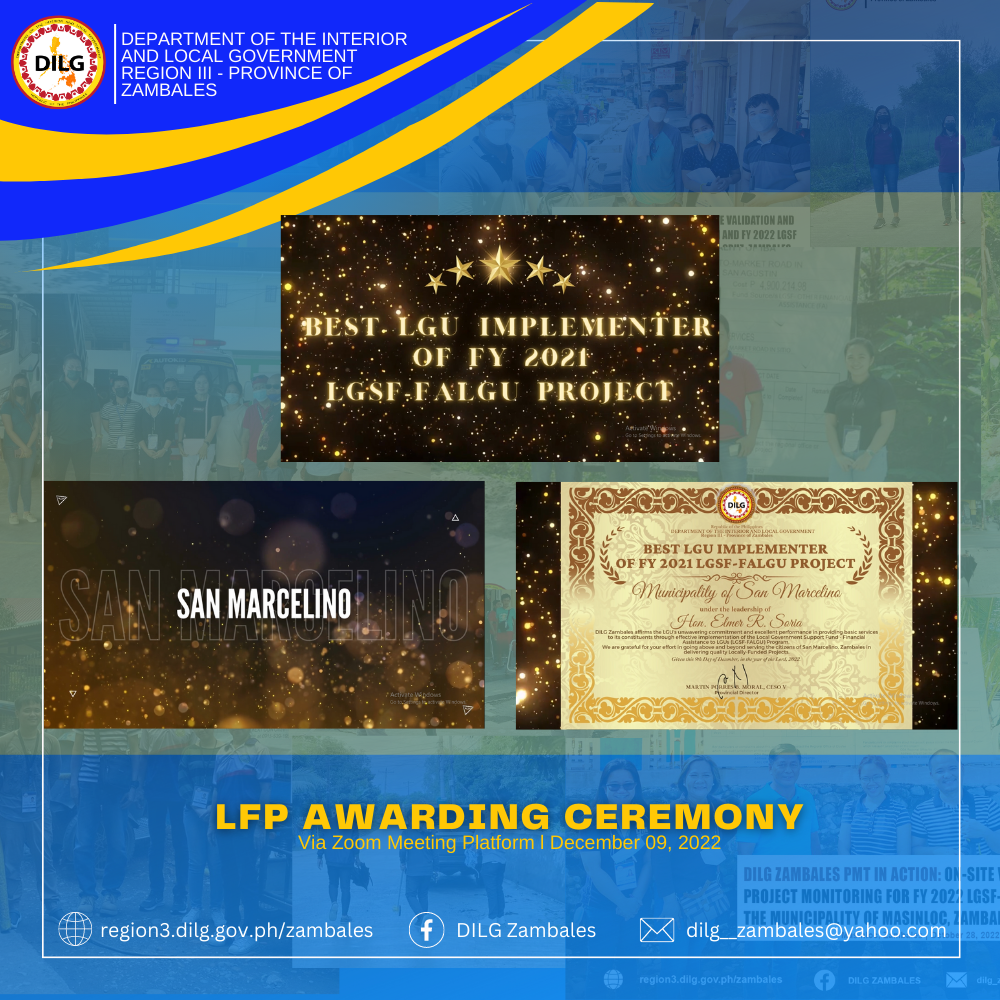 The Department of the Interior and Local Government (DILG) Zambales, in its effort to further establish a system of coordination and cooperation between the Local Government Units (LGUs) and the Department, and to affirm the LGU's commitment and excellent performance in the implementation of Locally Funded Projects, conducts the Provincial Locally Funded Projects (LFPs) Assessment and Calibration on December 9, 2022 via zoom platform.
The said activity was participated by the Municipal Engineers, Municipal Accountants, Local Finance Committee, SubayBAYAN Focal Person and RSSA Focal Person of the thirteen (13) Municipalities and representatives from the Provincial Engineering Office (PEO).
"As we go along towards the development of our country, hand-in-hand ang LGU at ang National Government sa pag-iimplement ng mga Programa [LFPs]" LGOO VII Melissa D. Nipal, Cluster Team Leader emphasized as she delivered her opening remarks. LGOO VII Nipal also mentioned that the LFP Calibration is a monthly activity and acknowledged all the efforts and contributions of the LGUs in ensuring a productive and successful implementation of the locally funded projects.
LGOO VI Threeks F. Fontamillas, Program Manager, delivered a short overview of the activity and encouraged the participants to listen closely to the presentations prepared by the DILG Engineers.
As one of the highlights of the activity, the Department recognized the best practice of LGUs in project implementation and encouraged local governments to further strengthen these practices. Municipalities of San Marcelino and Iba were hailed as the best LGU project implementer for FY 2021 and 2022 LGSF programs, respectively. Likewise, awards were also given to Engr. Benedict Jadloc, Municipal Engineer, LGU-San Felipe and Engr. Joel Damaso, Municipal Engineer, LGU-Iba for the best focal person for SubayBAYAN and RSSA.
The LFP Engineers and Project Evaluation Officer gave updates on the status and documents submission of the FY 2022 Support to Barangay Development Program (SBDP), FY 2022 Conditional Matching Grant Program (CMGP), FY 2021 Local Government Support Fund - Disaster Rehabilitation and Reconstruction Assistance Program (LGSF- DRRAP), FY 2021 and FY 2022 Local Government Support Fund - Financial Assistance to Local Government Unit (LGSF-FALGU), LGU's compliance in the SubayBAYAN Portal, Result-Based Monitoring and Evaluation of Local Infrastructure Project (RLIP) and, Local Road Management Performance Assessment Tool (LRMPAT) and Rapid Subproject Sustainability Assessment (RSSA), Municipal Water Supply and Sanitation Master Plan (MWSSMP), and Annual Maintenance Work Program, (AMWP). Commitments on the necessary actions that need to be taken were also discussed during this period.