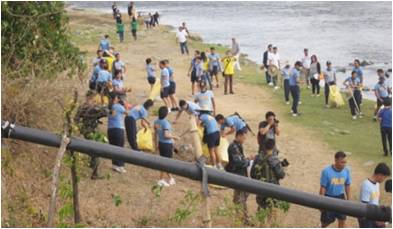 The DILG Provincial Office of Nueva Ecija in cooperation with the Local Government of Rizal headed by Mayor Eugenio Placido and DILG Regional Office 3 facilitated the conduct of the Quarterly Regional Showcase Clean Up last March 22, 2013 at Brgy. Poblacion II, Rizal, Nueva Ecija.
The activity was the first among the other scheduled clean-up showcases which shall be held on a quarterly basis for 2013. Nueva Ecija was chosen to host the venue of the clean for the first quarter. The event was attended by more or less 400 participants from the members of the Core Group, the DILG Family and the citizens of Rizal led by their respective Punong Barangays
The event kicked off at 7:00am at the gymnasium of Brgy. Poblacion II. Hon. Eugenio Placido, Municipal Mayor of Rizal welcomed the participants and expressed his appreciation for being selected again as the featured Municipality for the said clean up.
DILG R3 MED Chief Lerrie S. Hernandez explained the significance of conducting the Monthly Clean Up every first Saturday. She explained the continuing Mandamus of the Supreme Court directing all concerned agencies to rehabilitate and preserve the Manila Bay Watershed Areas and all adjoining bodies of water therein.
OIC-ARD/ Concurrent PD of DILG Nueva Abraham A. Pascua introduced other guests and gave his message which encouraged everyone to continue giving their best efforts in the task at hand. He also led the guests in reciting the "Pagpapahayag ng Kasunduan" and the signing of the same which shall serve as the covenant among all stakeholders. The opening formalities were followed by the actual clean-up. The participants were divided into two groups which were assigned to adjacent sides of the river.
A total of 40 sacks of garbage were collected from the clean-up. The DPWH's equipment played a major role in cleaning the upper Pampanga river located in the municipality.