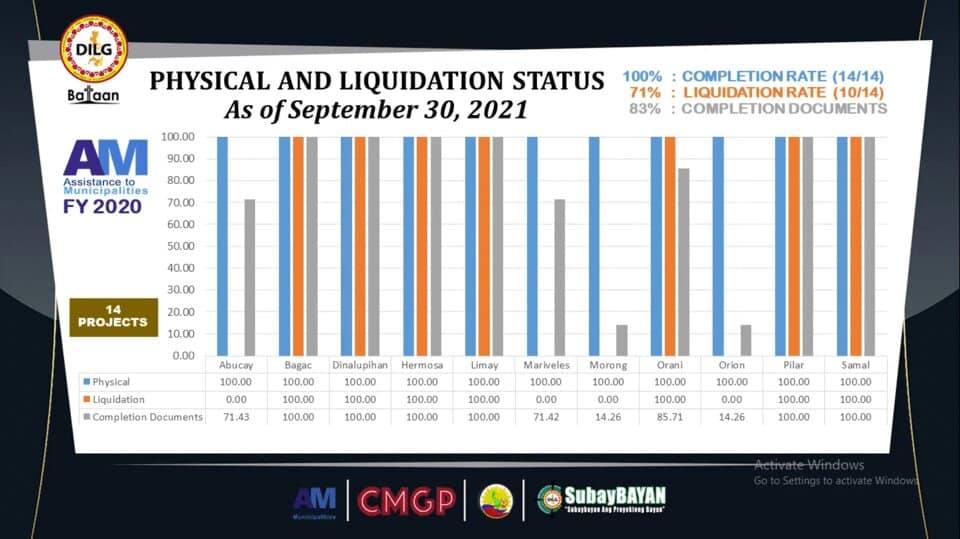 The Provincial Locally-Funded Projects (LFP) Team announced yesterday the completion of all the 14 Bataan projects subsidized under the Department's FY 2020 Assistance to Municipalities (AM) Program during the quarterly LFP meeting with LGU functionaries via Zoom platform.
Provincial Director Myra-Moral Soriano commended the municipal mayors, department heads and SubayBAYAN focal persons for their constant efforts in managing the LFPs in spite of the COVID-19 situation in the province. PD Soriano then congratulated the participants for contributing to DILG Region 3's recent milestone of being the best region relative to the implementation of LFPs nationwide.
Also presented by the Capability Development Section led by LGOO V Johnny Mandocdoc are the calibrated updates regarding the FY 2021 Local Government Support Fund Programs in Bataan as follows:
Disaster Rehabilitation and Reconstruction Assistance Program (DRRAP):
Number of Projects: 15
Total Allocation: P17,208,400.00
Delivery Rate: 13/15 or 86.67%
Completion Rate: 5/15 or 33.33%
Financial Assistance to LGUs (FALGU):
Number of Projects: 26
Total Allocation: P195,000,000.00
The activity concluded with a message from Cluster Head Melissa Nipal, and the awarding of certificates for the LGUs of Morong and Pilar for their successful completion of FY 2020 AM projects this quarter.