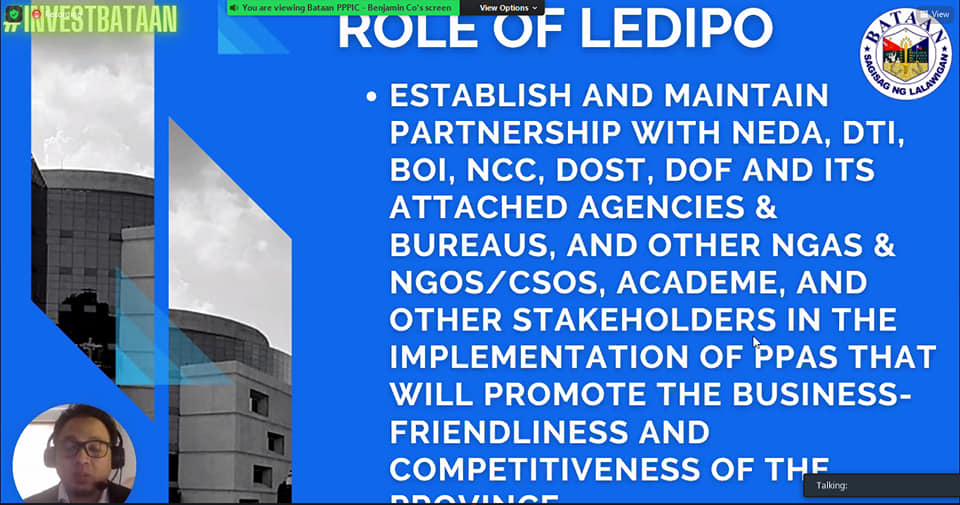 DILG Bataan shows support to Bataan Public-Private Partnership and Investment Center (PPPIC)'s very first 1Bataan Local Economic Development and Investment Promotions Officers (LEDIPO) Forum on June 11, 2021, via Zoom.
PD Myra Moral-Soriano served as one of the key officials who provided the opening remarks of the program.
Themed as 'The Power of Design Thinking', the forum was facilitated by guest speaker Rock Cleo, a design thinker and CEO of D. New Agency, and enlightened the participants on how design thinking can be applied to an organization and can bring transformation to the methods used in marketing for the team's services.
The forum was attended by various departments from the Provincial Government of Bataan, representatives of LGUs, and partner stakeholders and was also steered through brainstorming group exercises and individual outputs.
The online activity also encouraged LGUs to create their LEDIPO to promote programs relevant to public-private partnerships (PPP) and Investment Center Function under DILG Memorandum Circular 2020-167.
In addition to providing a new perspective on decision-making and sharing ideas, PPPIC also discussed the projects already implemented by PG Bataan through PPP such as The Bunker and the 1Bataan Integrated Transport System, as well as pending projects and other facilities to be built in the province.