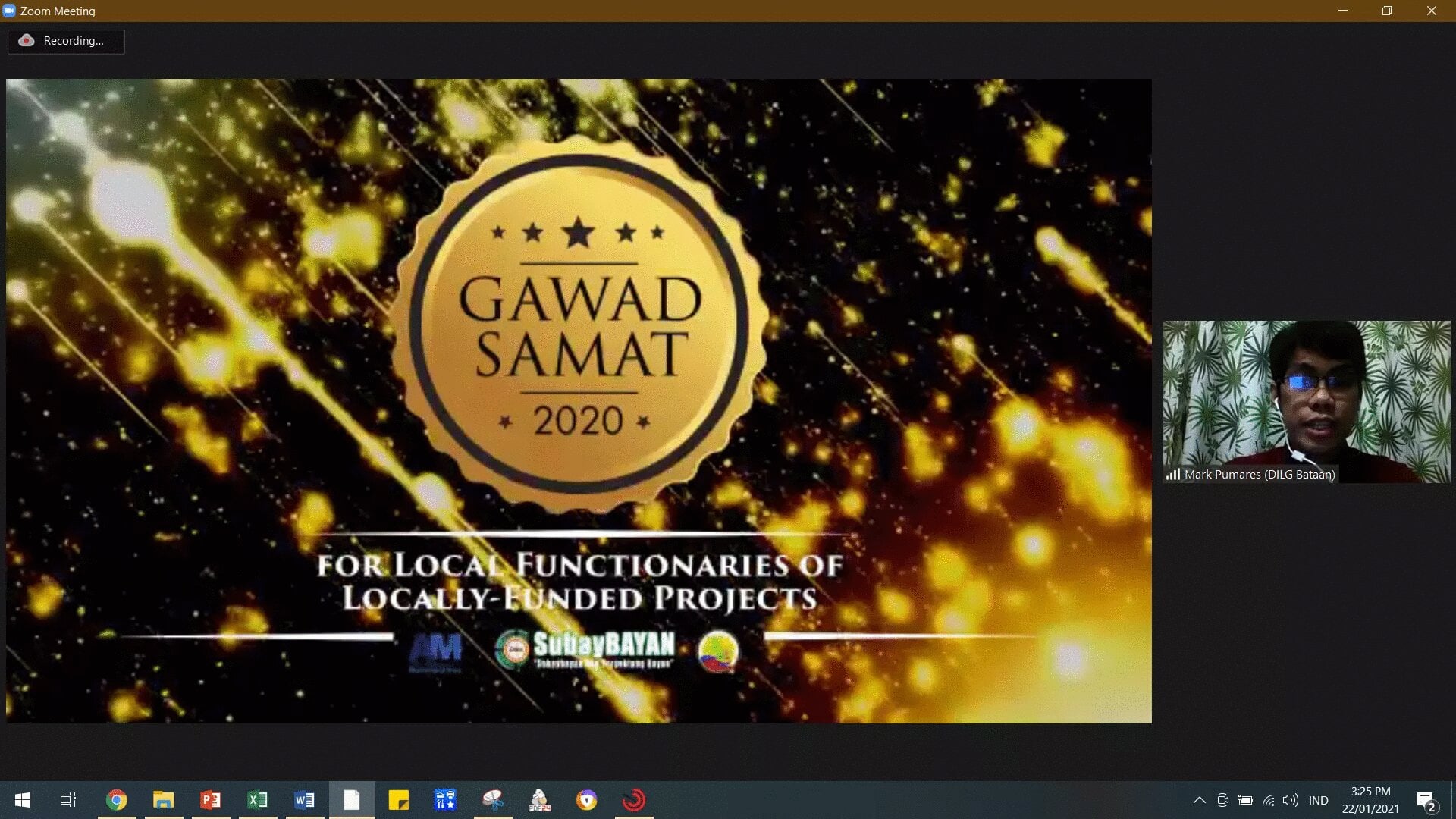 Recognizing the unwavering effort and outstanding performance of the functionaries from the 12 LGUs of the province, DILG Bataan held its first-ever Gawad Samat for Locally-Funded Projects (LFPs) on January 22, 2021 via Zoom Meeting.

For their commendable implementation of the FY 2019 Performance Challenge Fund (PCF) Program, the Municipality of Bagac was hailed as the top-performing LGU for the said program, while the Municipalities of Pilar and Hermosa landed on the second and third spot, respectively.

Furthermore, the Municipality of Hermosa secured another award for being the best implementer of the FY 2019 Assistance to Municipalities (AM) Program. It was followed by the Municipality of Dinalupihan for second place and the Municipality of Samal for third place.

The Provincial Office also took pride in the accuracy and promptness of the LGUs' respective focal persons in updating the SubayBAYAN Portal. Tied in the first place, Ms. Krisel Jane Paloma (Municipality of Dinalupihan) and Mr. Louie Ryan Valderama (Municipality of Orion) were named as the Province's Best SubayBAYAN Focal Persons for their 100% compliance rate on the said portal for FY 2019. On the other hand, Ms. Leonila Trinidad (Municipality of Bagac) had garnered a 98% compliance rate which made her grab the third rank.

In her message, Provincial Director Myra Moral-Soriano expressed her gratitude to all the city/municipal administrators, planning and development coordinators, local government operations officers, engineers, accountants, and other functionaries who attended the event and encouraged them to continue the good practices in carrying out the LFPs of the province.

Prior to the actual awarding ceremony, the provincial LFP engineers, led by Capability Development Section Chief Johnny Mandocdoc, presented the physical and financial status of the FY 2019 and 2020 projects as well as the strategic plans of the team to further improve the overall performance of Bataan this year.

Also in attendance were Provincial Focal Person for SGLG MLGOO Cristy Blanco who introduced a glimpse of what lies ahead for the 2021 Seal of Good Local Governance and Cluster Team Leader Melissa Nipal who wrapped up the event with her thought-provoking remarks toward the success of each LGU in the implementation of LFPs.